FIFA Women's World Cup Canada 2015™
May 06, 2015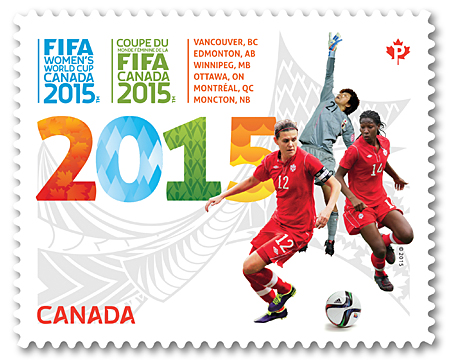 "[Having my likeness on a stamp] is a huge honour – obviously, I never imagined something like this would happen to me – and I think it demonstrates how far women's sports, especially soccer, have come in recent years," says Christine Sinclair, captain of Canada's national women's soccer team. Star teammate Kadeisha Buchanan echoes her thoughts: "I feel proud, honoured and extremely happy to represent my country on the field."
Their sentiments sum up how Canada Post feels about sharing the excitement of the FIFA Women's World Cup Canada 2015™ with Canadians and collectors around the world through this special issue.
From June 6 to July 5, 2015, Canada will host this prestigious international event – the largest women's soccer competition on the planet – in Vancouver, Edmonton, Winnipeg, Ottawa, Montréal and Moncton.
Out of 129 competing nations, 24 finalists will play. Canada will kick off the competition in the opening game against China June 6 in Edmonton. Vancouver's BC Place Stadium will hold the championship final match July 5.
Canadians will be able to show their support for the competition – and their home team – with this commemorative issue, whose Official First Day Cover is postmarked in Edmonton. Accomplished stamp designer Debbie Adams says of her approach, "I wanted to showcase the moves of some of the best players in women's soccer, while ensuring that the FIFA brand language was strongly reflected, as well. Large, patterned numbers remind us that the games are happening in 2015; the list of cities and provinces locates them in Canada. Vibrant colours and a dynamic background graphic communicate energy and celebration."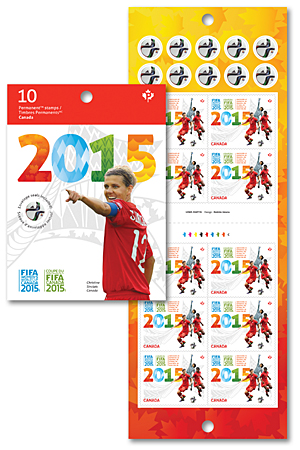 Booklet of 10 stamps
$8.50
Product #: 413984111
Denomination: Permanent™ (domestic rate)
Design: Debbie Adams
Dimensions: 40 mm x 32 mm
Printer: Lowe-Martin
Printing Process: Lithography in 8 colours
Quantity: 200,000
Photography: FIFA (Getty Images)
Shop
Official First Day Cover
$1.85
Product #: 413984131
Denomination: Permanent™ (domestic rate)
Design: Debbie Adams
Dimensions: 191 mm x 113 mm
Printer: Lowe-Martin
Quantity: 11,000
Photography: FIFA (Getty Images)
OFDC Cancellation Location: Edmonton AB
Shop