Weather Wonders
June 18, 2015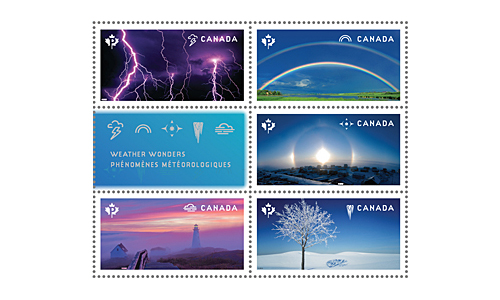 Sunny, cloudy, pleasant or miserable – we feel the weather deeply. There's no escaping it… but who would want to? The intense beauty of good, bad or even dangerous weather captures imaginations, sparks conversations and inspires artists.
From brilliant flashes of lightning to crystal-clear ice veneers, the images on these stamps showcase the incredible variety of weather we experience in Canada – all thanks to the photographers who braved the elements to capture these meteorological marvels.
Armed with these spectacular visuals, Kosta Tsetsekas and Defne Corbacioglu – of Vancouver-based Signals – designed a set of stamps that are tied together seamlessly.
"We used themed icons as a nod to the long history of weather iconography – the small suns, clouds and raindrops you see in your daily weather forecast," explains Tsetsekas. "The icons add spice to the stamps without clouding the wonderful photography," adds Corbacioglu.
The five photographs come from every corner of the country. Daryl Benson snapped hoar frost covering a tree near Beaumont, Alberta. Geoff Whiteway focused on hazy, early-morning fog at Cape Spear Lighthouse National Historic Site in Newfoundland. In Saint-Gédéon, Quebec, Mike Grandmaison chased a rain shower to shoot a double rainbow, while Dave Reede captured radiant flashes of lightning near Winnipeg, Manitoba. Further north, in Iqaluit, Nunavut, Frank Reardon caught rarely witnessed sun dogs, created by ice crystals in the air.
Each weather wonder was carefully chosen with expert assistance from Environment Canada's senior climatologist, David Phillips, who shares our fascination with weather. Says Phillips, "I marvel at the beauty – and violence – of weather in Canada, which these stamps spectacularly depict."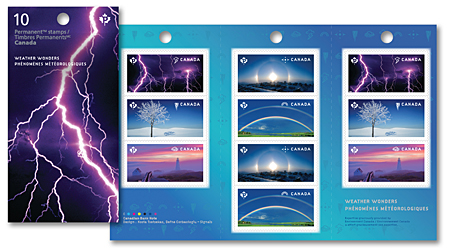 Booklet of 10 stamps
$8.50
Product #: 413985111
Denomination: 5 x Permanent™ (domestic rate)
Design: Kosta Tsetsekas, Defne Corbacioglu (Signals)
Dimensions: 48 mm x 26 mm
Printer: Canadian Bank Note
Printing Process: Lithography in 6 colours
Quantity: 350,000
Photography: Hoar frost, Daryl Benson (Masterfile); Fog, Geoff Whiteway; Double rainbow, Mike Grandmaison; Lightning, Dave Reede (AgStock image – Corbis); Sun dog, Frank R. Reardon
Shop