Alice Munro
July 10, 2015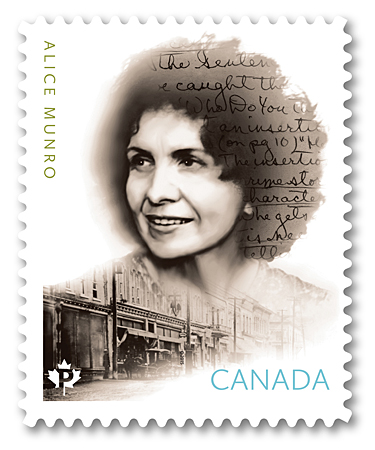 Alice Munro is one of Canada's most celebrated and beloved writers. She was born in 1931 in Wingham, southwestern Ontario, the region that inspired the setting for many of her stories. Regarded as an author who renewed the short-story form, her early work was published in Canadian literary journals and featured on CBC Radio's Anthology. In the mid-1970s, her stories began to appear in The New Yorker, which brought her a broader, international audience.
Many collections of stories followed, along with numerous awards, culminating in 2013, when she became the first Canadian woman to win the Nobel Prize in Literature – an achievement celebrated with this commemorative issue.
The stamp features a photo of the author taken by her daughter Sheila Munro and a vintage photo of Wingham. Samples of the author's handwriting are ghosted over the image. The Official First Day Cover also features these elements and other images from the region; it is cancelled in Wingham, Ontario.
The stamp was designed by Marcio Morgado and art directed by Paul Haslip of HM&E.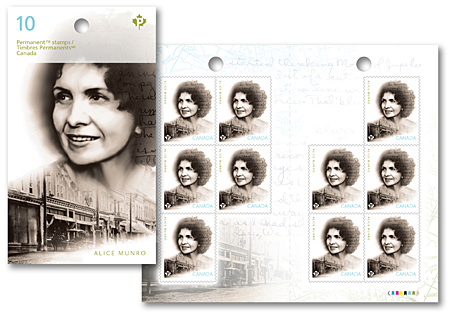 Booklet of 10 stamps
$8.50
Product #: 413986111
Denomination: 5 x Permanent™ (domestic)
Design: Paul Haslip, Marcio Morgado (HM&E design)
Dimensions: 26 mm x 32 mm
Printer: Colour Innovations Inc. (new Canadian security printer of postage stamps)
Printing Process: Lithography in 7 colours
Quantity: 150,000
Photography: Stamp and cover, Sheila Munro; handwriting samples courtesy of The William Ready Division of Archives and Research Collections, Mills Memorial Library, McMaster University
Shop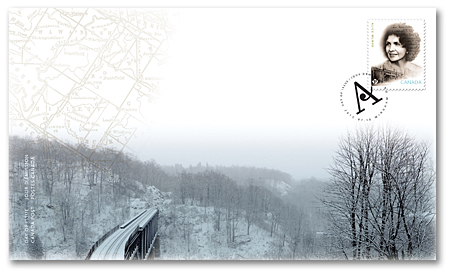 Official First Day Cover
$1.85
Product #: 413986131
Denomination: 5 x Permanent™ (domestic)
Design: Paul Haslip, Marcio Morgado (HM&E design)
Dimensions: 191 mm x 113 mm
Printer: Colour Innovations Inc. (new Canadian security printer of postage stamps)
Quantity: 10,000
Photography: Stamp and cover, Sheila Munro; handwriting samples courtesy of The William Ready Division of Archives and Research Collections, Mills Memorial Library, McMaster University
OFDC Cancellation Location: Wingham ON
Shop