Year of the Monkey
January 12, 2016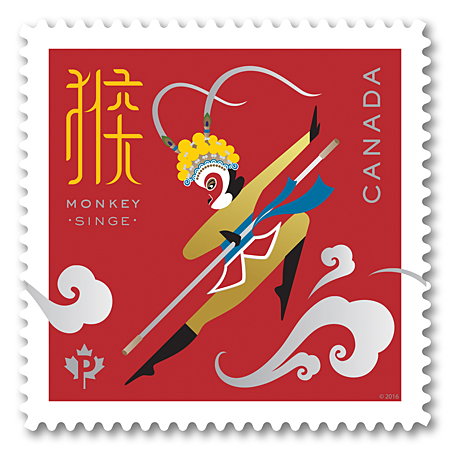 The eighth stamp in the Lunar New Year series celebrates the Year of the Monkey, which begins February 8, 2016, and ends January 27, 2017.
The ninth creature in the lunar cycle is an all-powerful symbol of honour, luck, riches and longevity, according to Chinese custom. Monkey symbols traditionally include an element of "-godliness"– one of the reasons they are ubiquitous in classic Chinese art and architecture.
Those lucky enough to be born in the Year of the Monkey count brilliance, flexibility, skillfulness and inventiveness among their traits, along with an excellent memory, an iron will and a strong drive to succeed. On the downside, Monkeys are said to be easily frustrated by delays, tend to look down on others and have a fast-flaring temper that (fortunately) cools quickly. Canadians born in this lunar year include singer Céline Dion, actress Kim Cattrall and legendary pianist Glenn Gould.
These domestic and international stamps were inspired by the legend of the Monkey King Sun WuKong, one of the main characters in the classic Chinese novel Journey to the West. Also transformed into a famous Chinese opera, the story tells of how the sovereign accompanied the monk Xuanzang on a journey to India to retrieve Buddhist texts known as sutras.
In keeping with previous issues, the domestic and international stamps come together on a stylized souvenir sheet and an uncut press sheet. A transitional souvenir sheet heralding the end of the Ram's reign and the start of the Monkey's year is also available.
Designed by Albert Ng and Linna Xu, the stamps not only depict the Monkey imagery but also feature popular New Year's greetings, which appear at the edge of the pane and on all of the souvenir sheets.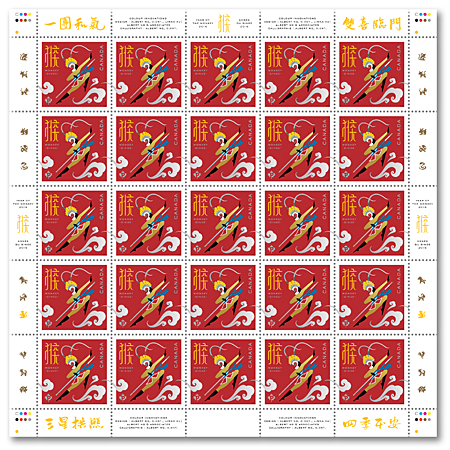 Product #: 404000107
Denomination: Permanent™ (domestic rate)
Design: Albert Ng and Linna Xu
Dimensions: 32 mm x 32 mm
Printer: Colour Innovations
Printing Process: Lithography in 7 colours, embossing, 1 foil stamping
Quantity: 100,000
Gum Type: PVA
Illustration: Albert Ng
OFDC Cancellation Location: Toronto ON
Shop