Her Majesty Queen Elizabeth II
January 13, 2016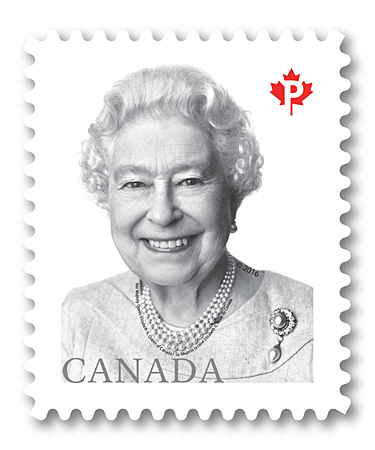 Her Majesty Queen Elizabeth II has posed for some of the greatest photographers of the two centuries bridged by her life and reign. While images captured by such legends as Marcus Adams, Dorothy Wilding, Cecil Beaton and Yousuf Karsh have appeared on previous Canadian stamps, this year's royal issue was snapped by one of the world's pre-eminent fashion photographers, David Bailey.
The black-and-white photograph featured on the stamp was commissioned for Her Majesty's 88th birthday.
Still working in his mid-70s, Bailey has photographed royals and other celebrities for five decades. His trademark – stark-contrast shots, creative use of lighting – and unique ability to capture the personality of his subject at the click of a button have set the standard for fashion photography in such publications as Vogue and GQ.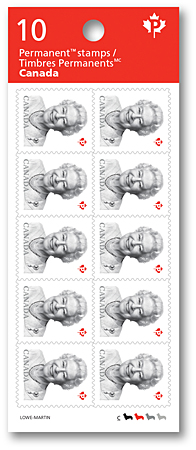 Booklet of 10 stamps
$8.50
Product #: 111227
Denomination: Permanent™ (domestic rate)
Design: Steven Slipp
Dimensions: 20.25 mm x 23.25 mm
Printer: Lowe-Martin
Printing Process: Lithography in 4 colours
Quantity: Continuous printing
OFDC Cancellation Location: Victoria BC
Shop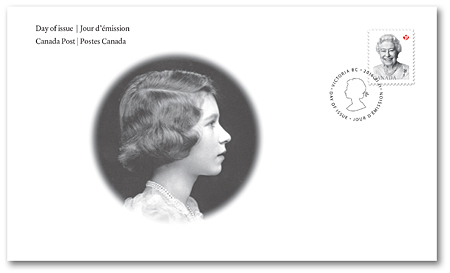 Official First Day Cover
$1.85
Product #: 411227131
Denomination: Permanent™ (domestic rate)
Design: Steven Slipp
Dimensions: 191 mm x 113 mm
Printer: Lowe-Martin
Quantity: 9,000
OFDC Cancellation Location: Victoria BC
Shop