UNESCO World Heritage Sites in Canada
January 13, 2016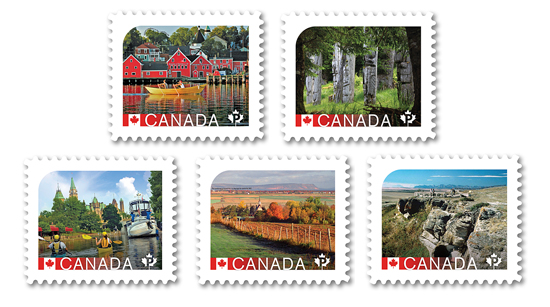 If the images on these definitive stamps look familiar, it's because larger versions of the same ones appeared on U.S. and international-rate commemoratives issued in May 2014.
Designed by Lara Minja, of Lime Design, this second set of UNESCO definitives showcases the natural, historical and cultural treasures in our country that have been designated as important "to the common heritage of humanity." They also allow you to share these incredible locations with friends and family at home and around the world.
The five sites on these Permanent™ domestic-rate stamps – the Landscape of Grand Pré (N.S.), the Rideau Canal (Ont.), SGang Gwaay (B.C.), Head-Smashed-In Buffalo Jump (Alta.) and Old Town Lunenburg (N.S.) – are among 17 UNESCO World Heritage sites in Canada. Another seven are tentatively listed for designation.
Parks Canada is responsible for the implementation of the World Heritage Convention in Canada and the protection and conservation of 12 of these amazing sites.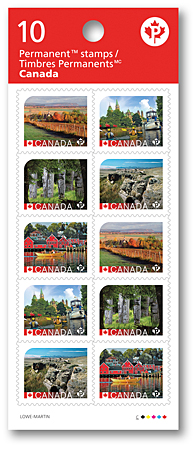 Booklet of 10 stamps
$8.50
Product #: 111225
Denomination: 5 x Permanent™ (domestic rate)
Design: Lime Design Inc.
Dimensions: 24 mm x 20 mm
Printer: Lowe-Martin
Printing Process: Lithography in 5 colours
Quantity: Continuous printing
Gum Type: PVA
OFDC Cancellation Location: Ottawa ON
Shop