Black History: No. 2 Construction Battalion
January 14, 2016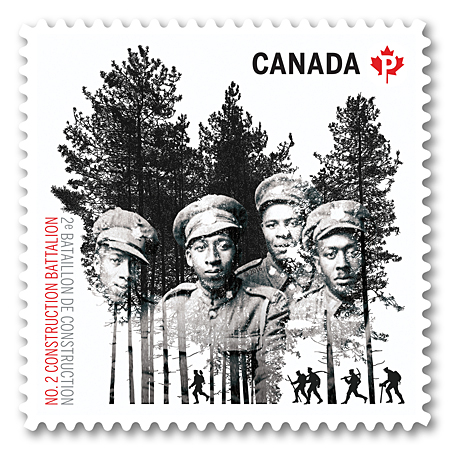 The men of the No. 2 Construction Battalion left Halifax March 28, 1917, to assist with Canada's war effort in Europe. This stamp, designed by Lara Minja of Lime Design, recognizes the contributions they made and the challenges they met – including the discrimination they faced before leaving home.
When war broke out in 1914, Canadians heeded the call to enlist. Black Canadians, however, were less than welcome in the eyes of some recruiters, and many were turned away due to prejudice. On July 5, 1916, faced with protests and a need for manpower, militia officials created a special unit where these proud men could serve their country as part of the Forestry Corps in France.
The men of the No. 2 Construction Battalion harvested, milled and shipped timber to the Western Front. In camp, they faced harsh conditions, segregated accommodations and back-breaking work. Some did not return home. A few found ways to join other units and fought at Vimy Ridge and in other battles.
"This stamp celebrates the drive, commitment and effort of these somewhat forgotten soldiers," says Minja. "I hope that uncovering their story allows them to take their fair place in Canadian history."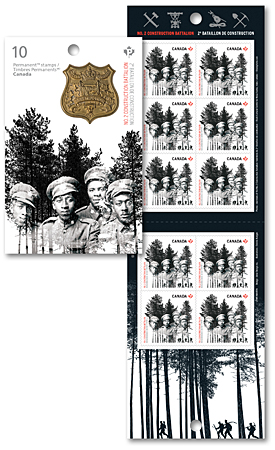 Booklet of 10 stamps
$8.50
Product #: 414002111
Denomination: Permanent™ (domestic rate)
Design: Lime design Inc.
Dimensions: 32 mm x 32 mm
Printer: Lowe-Martin
Printing Process: Lithography in 6 colours
Quantity: 140,000
Illustration: Dennis Budgen, Istockphoto
OFDC Cancellation Location: Pictou NS
Shop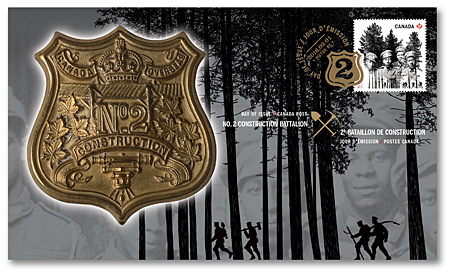 Official First Day Cover
$1.85
Product #: 414002131
Denomination: Permanent™ (domestic rate)
Design: Lime design Inc.
Dimensions: 191 mm x 113 mm
Printer: Lowe-Martin
Quantity: 10,000
Illustration: Dennis Budgen, Istockphoto
OFDC Cancellation Location: Pictou NS
Shop