Women's Suffrage: 100th Anniversary
March 08, 2016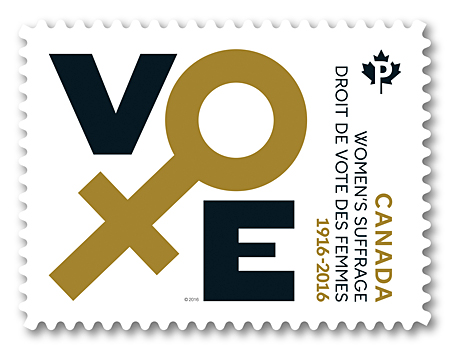 On March 8, Canada Post will mark 100 years since the first Canadian women won the right to vote with a special stamp issued on International Women's Day.
While Canadian women began seeking the right to vote as early as the 1870s, it wasn't until the First World War that their lack of equal political rights began to gain mainstream attention.
Women finally won the right to cast ballots in provincial elections in Manitoba, Saskatchewan and Alberta in 1916, followed by British Columbia and Ontario in 1917, Nova Scotia in 1918, New Brunswick and Yukon in 1919, Prince Edward Island in 1922, Newfoundland and Labrador in 1925, Quebec in 1940, and the Northwest Territories in 1951. In federal elections, female relatives of soldiers could vote in 1917. The following year, that right was extended to most Canadian women.
This stamp, designed by Winnipeg's Tétro, features a clever fashioning of the Venus symbol, commonly used to represent women, from the letters "o" and "t" in the word "vote." The colours of black (underprinted with cyan blue for greater drama) and gold were adopted by advocates of women's suffrage in Canada and the United States.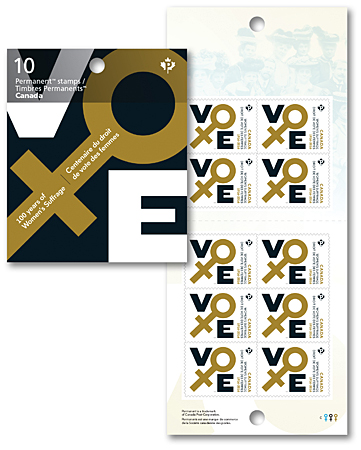 Booklet of 10 stamps
$8.50
Product #: 414003111
Denomination: Permanent™ (domestic rate)
Design: Tétro Design
Dimensions: 32 mm x 24 mm
Printer: Lowe-Martin
Printing Process: Lithography in 3 colours
Quantity: 140,000
OFDC Cancellation Location: Winnipeg MB
Shop
Official First Day Cover
$1.85
Product #: 414003131
Denomination: Permanent™ (domestic rate)
Design: Tétro Design
Dimensions: 191 mm x 113 mm
Printer: Lowe-Martin
Quantity: 9,000
OFDC Cancellation Location: Winnipeg MB
Shop