Canadian Photography
April 13, 2016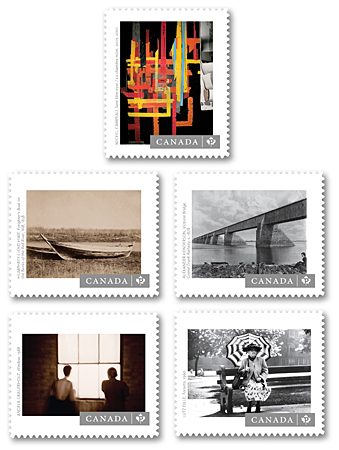 The fourth set in a five-year series culminating in 2017, this issue continues to showcase the best Canadian photographers and photography of the past 150 years – as chosen by leading curators and gallery owners.
The domestic-rate stamps are a photographic feast, unfettered by time or technique. Michel Campeau's contemporary abstract Sans titre 0310 (from the series La chambre noire, 2005-10) (1) joins Humphrey Lloyd Hime's historic Freighter's Boat on the Banks of the Red River, MB, (1958) (2), shot when Hime was the official photographer and surveyor on the Assiniboine and Saskatchewan Exploring Expedition.
Victoria Bridge, Grand Trunk Railway, Montreal, Quebec (ca. 1878) (3) is the work of Alexander Henderson, whose striking images of landscapes, city scenes, and outdoor activities in 19th century Canada received high praise, both at home and abroad. It serves as a realistic foil to the dreamlike Window (1988) (4), by Montréal's Angela Grauerholz, winner of the 2015 Scotiabank Photography Award for her work in black and white, colour and alternative methods of production. Savvy street photographer Lutz Dille's Toronto (1960) (5) adds poignancy to a gritty moment captured on the streets of his adopted home.
The U.S.-rate stamp bears one of the best known of the 6,500 photos that Byron Harmon – a charter member and long-serving official photographer of the Alpine Club of Canada – captured of the majestic Canadian Rockies. Climbing Mt. Habel (ca. 1909) (6) is housed with the rest of his impressive body of work in the Whyte Museum of the Canadian Rockies in Banff, Alberta.
No collection of Canadian photographs would be complete without the work of Yousuf Karsh – and the international-rate stamp in this issue features one of his best known portraits. Grey Owl (Archibald Belaney, 1888-1938) (7) was taken in 1936, shortly after Karsh opened his own studio and just five years before his iconic portrait of Winston Churchill shot him to world fame.
According to series designer Stéphane Huot, "The main challenge was to present the photographs in their entirety and in harmony, regardless of proportion or orientation."
He adds that, while the design may seem simple, there was a lot of thinking behind it. "The discrete design was intended to focus on the photographs. But the apparent simplicity and minimalistic look of the stamps was determined by a set of complex visual rules that respected the proportional integrity of each image, while creating a sense of harmony and unity across the series over time."

Booklet of 10 stamps
$8.50
Product #: 414004111
Denomination: 5 x Permanent™ (domestic rate)
Design: Stéphane Huot
Dimensions: 36 mm x 30 mm
Printer: Canadian Bank Note
Printing Process: Lithography in 6 colours
Quantity: 130,000
Gum Type: PVA
OFDC Cancellation Location: Montréal QC
Shop