Dinos of Canada
May 26, 2016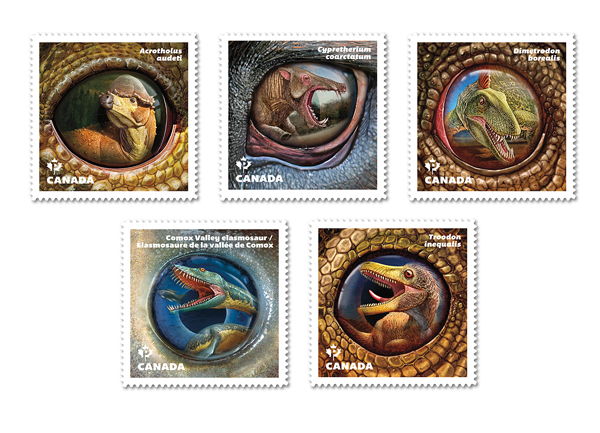 Our Dinos of Canada stamp series isn't extinct just yet. This exciting sequel breathes new life into five more fossilized finds that are part of Canada's wealth of paleontological discoveries. In Alberta, we unearth two traditional dinosaurs: the tiny, bird-like Troodon inequalis and the boneheaded Acrotholus audeti. In British Columbia, we find the Comox Valley elasmosaur, a vicious marine reptile, while in Saskatchewan, we dig up the relatively recent Cypretherium coarctatum, one of a group of mammals nicknamed "terminator pigs." Moving east, to Prince Edward Island, we come across an ancient, mammal-like reptile called Dimetrodon borealis.
This rock-solid issue took shape thanks to a team from Vancouver-based Subplot Design Inc. that included Roy White, Matthew Clark, Steph Gibson and Liz Wurzinger.
"We knew this project would be illustration-heavy and the subject matter would be very specific," says White. "Our first challenge was to find an engaging illustrator – one who was also an expert in the subject."
The search for such a specialized artist led the team to Ukrainian Sergey Krasovskiy who, as one of the world's best paleo-artists, specializes in the illustration of dinosaurs and other extinct creatures. Although Krasovskiy's work has graced the pages of many textbooks and popular magazines, including National Geographic, these are his first stamps.
"When I start an illustration, I visualize it in a magazine," explains Krasovskiy. "I couldn't do the same with a small stamp, so I printed a stamp-sized frame to actually see the size I was working with."
"Steph [Gibson] came up with the idea of showing the reflection of the creature through the eyes of another. Each eye is a unique frame, so it helps to create an interesting storyline for the stamp. Who's watching? Predator? Prey? They inspire the imagination without having to depict an entire scene," says White.
The captivating design presented some unusual challenges. The creature needed to appear as a reflection on a curved surface, making it difficult to balance the distortion in the perspective with the very technical – and scientifically accurate – details.
For White, the Dinos of Canada issue comes together best when all of the products are side by side.
"The repeating eye motif comes roaring back on the uncut press sheet as the eye of a hungry Tyrannosaurus rex and as the frame for a single stamp among seven other souvenir sheets."
"It's not just an illustration to me," adds Krasovskiy, "I enjoy the process. I hope that it reflects in my work, and that the audience feels that passion."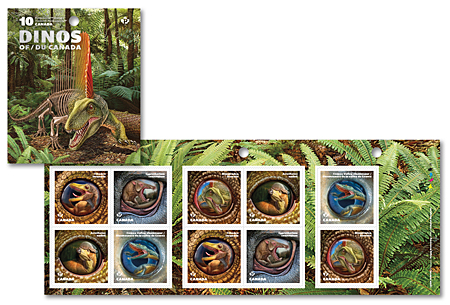 Booklet of 10 stamps
$8.50
Product #: 414018111
Denomination: 5 x Permanent™ (domestic rate)
Design: Subplot Design Inc.
Dimensions: 40 mm x 40 mm
Printer: Lowe-Martin
Printing Process: Lithography in 4 colours + 1 varnish
Quantity: 260,000
Gum Type: PVA
Illustration: Sergey Krasovskiy
OFDC Cancellation Location: Courtenay BC
Shop