Lunar New Year: Year of the Rooster
January 09, 2017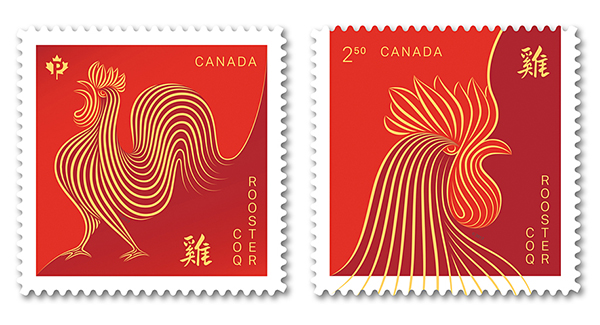 Hoping to catch more shut-eye January 28? Don't count on it! You just might wake early to the crowing of the Rooster as it announces the arrival of its namesake year in the Chinese lunar calendar. Those born under this cocky sign – which rules the roost until February 15, 2018 – are said to be honest, hardworking and punctual. Although their tendency to boast might rub some the wrong way, Roosters also have a knack for winning friends with their wit and charm.
The ninth issue in our most recent series celebrating the Chinese New Year, these domestic- and international-rate stamps showcase striking designs by Montréal-based Paprika. The gold-line work on the international stamp captures the Rooster's stately profile, while the undulating pattern on the domestic stamp features the fowl in full form – its chest puffed out with pride. The pane of 25 complements the wavy design by rotating the stamps throughout the sheet – a first for Canada Post.
To start the sesquicentennial, these elegant designs strut their stuff for Canada's birthday – as will each issue in 2017. CANADA 150 is hidden in tagging around the stamps and revealed only in black light, while the official Canada 150 logo adorns the uncut press sheet and pane of 25 in the same gold used to enhance the stamps.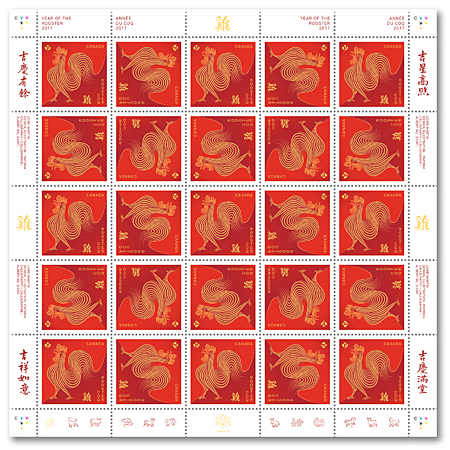 Product #: 404030107
Denomination: Permanent™
Design: Paprika
Dimensions: 32 mm x 32 mm
Printer: Lowe-Martin
Printing Process: Lithography in 4 colours, 1 foil stamping
Quantity: 80,000
Gum Type: PVA
Illustration: Paprika
OFDC Cancellation Location: Vancouver BC
Shop