UNESCO World Heritage Sites in Canada
January 10, 2017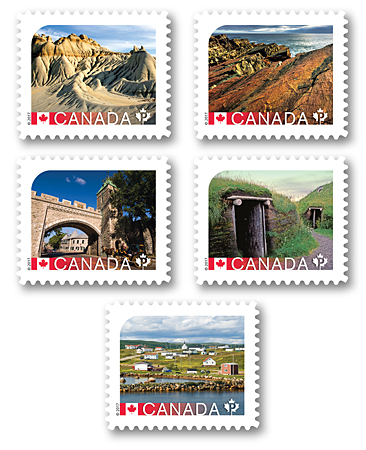 Don't miss your last chance to see Canada's most spectacular UNESCO World Heritage sites – on our stamps, that is.
Crafted by Lara Minja, of Lime Design, these definitive stamps showcase five places in Canada that have special status because of their importance to the common heritage of humanity. Mistaken Point (N.L.), the Historic District of Old Québec (Que.) and L'Anse aux Meadows National Historic Site (N.L.) make their debut in the series, while Dinosaur Provincial Park (Alta.) and Red Bay Basque Whaling Station (N.L.) enjoy an encore.
Cancelled in a fishing community near Mistaken Point – Canada's latest UNESCO site – the Official First Day Cover boasts a souvenir sheet with some hidden features in celebration of Canada's sesquicentennial. Use black light to explore our tribute to these captivating sites and you'll find the official Canada 150 logo and text waiting to be discovered.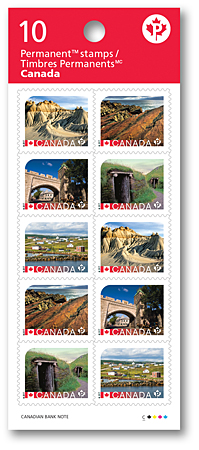 Booklet of 10 stamps
$8.50
Product #: 111231
Denomination: 5 x Permanent™ (domestic rate)
Design: Lara Minja, Lime Design Inc.
Dimensions: 24 mm x 20 mm
Printer: Canadian Bank Note
Printing Process: Lithography in 4 colours
Quantity: Continuous printing
Gum Type: PVA
OFDC Cancellation Location: Trepassey NL
Shop