F1 in Canada
May 16, 2017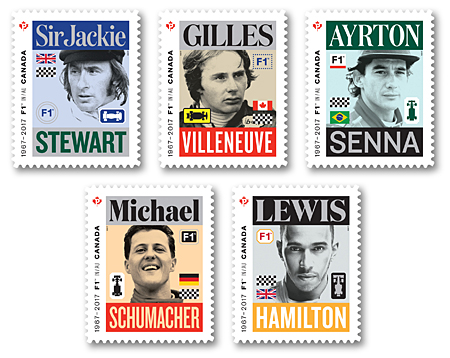 In celebration of the 50th anniversary of Formula 1 racing in Canada, Canada Post has issued a supercharged set of stamps featuring five of the fastest drivers ever to capture the checkered flag at the FORMULA 1 GRAND PRIX DU CANADA – each representing a different decade in the history of the race.
Designed by Paprika of Montréal, the stamps appear as miniature racing posters. In addition to classic photos of the five showcased drivers, each stamp offers a stylized overhead view of the car used to secure victory. This level of detail is carried over to the five Official First Day Covers, where the cancel on each cover represents the particular wheel and rim of each driver's winning race car.
In addition to the OFDCs (sold individually or as a set), the issue includes a booklet of 10 stamps (two stamps of each of the five designs), a pane of five gummed stamps, an uncut press sheet and several framed collectibles of these featured drivers.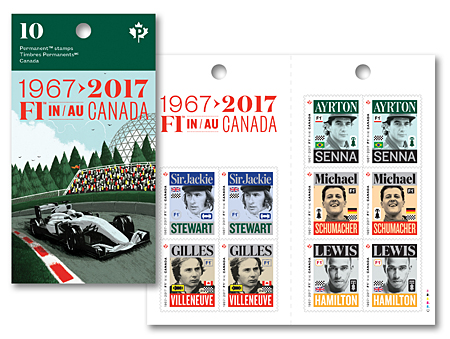 Booklet of 10 stamps
$8.50
Product #: 414042111
Denomination: 5 x Permanent™ (domestic rate)
Design: Paprika
Dimensions: 26 mm x 32 mm
Printer: Colour Innovations
Printing Process: Lithography in 5 colours (CMYK + MFX), tagging
Quantity: 300,000
Gum Type: PVA
Illustration: Marie Bergeron
OFDC Cancellation Location: Montréal QC
Shop