For the 150th year since Confederation, we expanded our storytelling role by issuing 10 stamps – in the shape of a maple leaf for the first time in our history.
Together we rise
Our Canada 150 issue celebrates 10 of our country's most transformative moments. These special stamps recreate the events that united us, moved us forward and made us proud to be Canadian. Casting our eyes back on the past 50 years since our centennial in 1967, we selected 10 truly iconic milestones and accomplishments from a wealth of social progress, innovation and other significant achievements that have positioned us as a vibrant and successful nation on the world stage.
There is no question that we Canadians have so much to celebrate for Canada 150. We are a model of tolerance and diversity to the world - a fact reflected in some of our 10 chosen topics. We showed ourselves to be a nation poised for progress during our 100th anniversary, and over the past five decades, we have proved ourselves as builders, creators and inventors, constantly meeting the challenge to be the very best. We have succeeded and achieved greatness in science, sports, leadership and much more. That excellence, that achievement, is an integral part of this stamp issue.
We want to share this Canada 150 celebration with you - not just through these 10 magnificent maple leaf-shaped stamps - but through the stories behind them, the unveilings where we came together with Canadians across this land - and together we rose, lumps in our collective throats, so proud of what we've accomplished and empowered to take on the challenges of the future.
To share in the celebration of our country through videos, interviews and stories of our stamp unveilings across Canada, visit canadapost.ca/canada150
Stamp Specifications

Product #: 414048111
Layout: Pane of 10 stamps
Price: $8.50
Product: Booklet of 10 stamps
Denomination: 10 x Permanent™ (domestic rate)
Size: 40 mm x 40 mm (maple leaf die-cut)
Quantity: 500,000
Printing process: Lithography in 6 colours
---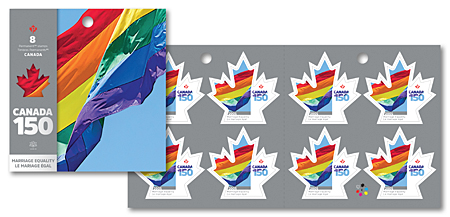 Product #: 414048111
Layout: Booklet of 8 stamps
Price: $8.50
Product: Booklet of 8 stamps (Marriage Equality)
Denomination: Permanent™ (domestic rate)
Size: 40 mm x 40 mm (maple leaf die-cut)
Quantity: 200,000
Printing process: Lithography in 6 colours
---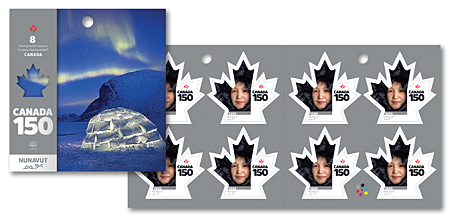 Product #: 414052111
Layout: Booklet of 8 stamps
Price: $6.80
Product: Booklet of 8 stamps (Nunavut)
Denomination: Permanent™ (domestic rate)
Size: 40 mm x 40 mm (maple leaf die-cut)
Quantity: 100,000
Printing process: Lithography in 6 colours
---
Product #: 404048107
Layout: Booklet of 10 stamps
Price: $8.50
Product: Pane of 10 stamps
Denomination: 10 x Permanent™ (domestic rate)
Size: 155 mm x 210 mm (circle perforations)
Quantity: 80,000
Printing process: Lithography in 6 colours
Gum type: PVA
---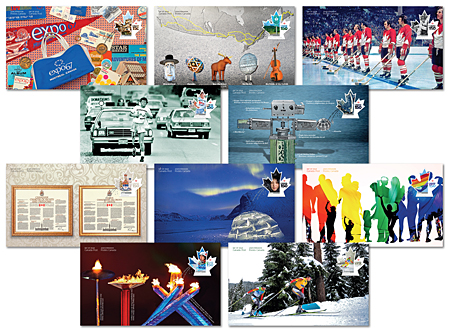 Product #: 414048131
Layout: First day of issue special envelopes (set of 10)
Price: $16
Product: Expo 67, Trans-Canada Highway, Summit Series, Marathon of Hope, Canadarm, Constitution, Nunavut, Marriage Equality, Olympic Games, Paralympic Glory
Denomination: Permanent™ (domestic rate)
Size: 190 mm x 112 mm
Quantity: 10,000
Cancellation site: Ottawa ON
Design: Subplot Design Inc.
Photos: Expo 67 – Arcaid, UIG, Getty Images. Trans-Canada Highway – Jay Beiler, dreamstime.com. Summit Series – Frank Lennon, Toronto Star, Getty Images. Marathon of Hope – The Canadian Press. Canadarm – courtesy of NASA and Canadian Space Agency. Constitution – Library and Archives Canada. Nunavut / ᓄᓇᕗᑦ – Clare Kines Photography. Marriage Equality – Roberto Machado Noa, LightRocket, Getty Images. Olympic Games – epa european pressphoto agency b.v., Alamy Stock Photo. Paralympic Glory – Ezra Shaw, Getty Images.
---
Expo 67
World-renowned architect Moshe Safdie's Habitat 67 complex was the star attraction at Canada's hugely successful World's Fair in Montréal.
For many Canadians, the highlight of Canada's centennial was one of the best global gatherings of the 20th century - Expo 67.
The six-month event transformed Montréal and dazzled the world. Canada - then a nation of only 20 million people - attracted more than 50 million people to the city and to spectacular pavilions created by 62 countries. Visitors included some of the most notable figures of the day: Her Majesty Queen Elizabeth II, Princess Grace of Monaco and Bing Crosby among them.
"It was an extraordinary cultural event, an economic success, a technological event in world history and a moment of great optimism in Canada," Habitat 67 architect Moshe Safdie said at the stamp's unveiling at Habitat 67 on April 27, 2017 - 50 years to the day after Expo 67 opened. "I would like to convey to you the extent to which people felt there is a better world to come and we can make a difference."
A photograph of Habitat 67 graces the stamp. The housing complex still reflects the futuristic architecture of Expo 67 and its theme, Man and His World. The modular design was inspired by, as Safdie put it, the principle of "for everyone, a garden." It conjured up a future with urban housing on a more human scale. Safdie's creation quickly became the talk of the architectural world and helped launch his renowned global career.
Fifty years later, the legacy of Expo 67 endures in Montréal - and in the personal and collective memories of that moment when Canada hosted and wowed the world.
Get the full story, interview and video at canadapost.ca/expo67
---
Trans-Canada Highway
Begun in 1950, completed in 1971, this 8,000-km road holds a special place in the hearts of people who've travelled it between St. John's and Victoria.
In prosperous postwar Canada, more families owned cars, and road trips for work or pleasure became common - but the country lacked one highway connecting St. John's, N.L., to Victoria, B.C.
The Trans-Canada Highway became the nation-building road a growing Canada needed. This highway of adventure, dreams and stories runs through all 10 provinces - and links to roads that reach the Yukon, the Northwest Territories and the United States. The Trans-Canada connects our country physically, culturally, economically and symbolically.
It is also a feat of engineering. Spanning nearly 8,000 kilometres, it is one of the longest national road systems on earth. Construction began in 1950 and while it officially opened in 1962, the Trans-Canada wasn't completed until 1971.
Countless Canadians have travelled the highway looking to fulfil their dreams, including up-and--coming young artists, entrepreneurs and athletes. For years, country music star Dean Brody travelled thousands of kilometres on the Trans-Canada chasing his dream. Brody headlined a stamp unveiling May 16 in Regina, while on tour. The event was held alongside the highway at the home of Brandt Group of Companies, which relies heavily on the Trans-Canada for its business.
Today, the Trans-Canada, distinguished by its white-on-green maple-leaf markers, still makes it easier for Canadians to explore their vast country and better understand each other.
Get the full story, interview and video at canadapost.ca/transcanada
---
Summit Series
Hockey's legendary Cold War battle pitted Canada's top stars against the Soviet Union's Olympic and world champions.
It was a Cold War battle on ice, an emotional roller-coaster ride for the country - and like no other hockey series before or since.
The 1972 Canada-USSR Summit Series captivated Canadians. For years, Canada's best players, being professionals, had been barred from competing against the world's best amateurs, the Soviets, who were Olympic and world champions. Canadian fans were convinced such a contest would easily establish Canada's supremacy in the sport.
The eight-game Summit Series shattered that assumption. Canada's best pros, wearing one jersey and called Team Canada for the first time, were expected to handily win every game - but the supposed cakewalk became a clash of titans.
On September 2, 1972, the puck dropped on Game 1 at the Montreal Forum. Team Canada scored two early goals, but the Soviets kept coming at them in brilliantly executed attacks. The Canadians were in trouble by the second period, and lost 7-3. Canadians were stunned. In Game 2 in Toronto, Team Canada fought to a 4-1 victory. Game 3 in Winnipeg was a 4-4 tie. With a chippy, undisciplined effort in Game 4 in Vancouver, Team Canada lost 5-3. The booing from the home-rink crowd triggered a televised post-game rebuke from exasperated and exhausted centre Phil Esposito. His inspirational speech became a turning point in the country's support and in the series.
The tournament moved to Moscow for the final four games. Boosted by some 3,000 Canadian fans who made the trek to Moscow, Team Canada rallied to win the last three games of the series. Each of those victories was capped by a game-winning goal from winger Paul Henderson, including the series winner in Game 8, depicted on the stamp.
Get the full story, interview and video at canadapost.ca/canada150
---
Marathon of Hope
Terry Fox's 1980 quest to run across the country on an artificial leg remains an enduring symbol of courage and hope.
There are Canadians - like Terry Fox - whose courage and determination allow their stories to live on in others. In 1980, his Marathon of Hope inspired a nation and captivated a country. His remarkable achievement changed public perceptions of people with physical disabilities and helped to reduce barriers for the disabled. Since his death in 1981, The Terry Fox Foundation and annual Terry Fox Run have raised more than $700 million worldwide for cancer research. In 2007, The Terry Fox Research Institute was established in Vancouver to focus on improving outcomes for cancer patients.
Terry Fox was diagnosed with bone cancer and lost his right leg when he was just 18. Three years later, he began his Marathon of Hope and ran - on an artificial right leg - a full marathon (over 40 kilometres) nearly every day for 143 days, which took him more than halfway across Canada. He had covered 5,373 kilometres when he was forced to end his trek near Thunder Bay, Ontario, because the cancer reached his lungs. Terry Fox died June 28, 1981, less than 10 months after he stopped running and a month shy of his 23rd birthday.
On May 25 of this year, Canada Post, joined by Judith Fox - Terry's sister - and Mayor Dennis O'Keefe of St. John's, Newfoundland and Labrador, unveiled the Marathon of Hope stamp.
Terry Fox's story teaches us how to hope, how to believe in miracles - and that one person can make a world of difference. It's a story we're honoured to tell.
Get the full story, interview and video at canadapost.ca/canada150
---
Canadarm
Canada's most famous robotics accomplishment - the Canadarm - took flight into space in 1981.
Just two years after Canada's centennial in 1967, the world watched as two astronauts walked on the moon for the first time. Already a nation of innovators, Canadians were captivated by space and soon became instrumental in developing technologies destined for the stars.
On November 13, 1981, the Canadarm made its space debut on the space shuttle Columbia. The now-famous robotic arm cemented Canadian expertise in robotics and launched Canada's close partnership with NASA on human space flight. For 30 years, the Canadarm manoeuvred astronauts, satellites and cargo in space until it was retired along with the space shuttle program in 2011. Today, its legacy continues through Canadarm2 and Dextre, Canada's advanced robots on the International Space Station, and has inspired technological development in industry, medicine and beyond.
Canadians have earned a reputation for transformative innovations in health care, communications and transportation. Alexander Graham Bell made his first phone call in 1876 in rural Ontario. Dr. John Hopps developed the external electronic pacemaker in the early 1950s, which led to the use of cardiac pacemakers. The first BlackBerry device, released in 1999, quickly revolutionized the smartphone business.
Jeremy Hansen unveiled our Canadarm stamp in a video recorded at Toronto's Glen Ames Senior Public School, April 28.
Get the full story, interview and video at canadapost.ca/canada150
---
The Constitution and the Canadian Charter of Rights and Freedoms
The Constitution Act, 1982, officially gave Canada full sovereignty, and the Canadian Charter of Rights and Freedoms gave every citizen fundamental protection.
On a rainy April 17, 1982, in front of the Peace Tower on Parliament Hill, more than 30,000 people watched Her Majesty Queen Elizabeth II and Prime Minister Pierre Trudeau sign the Proclamation of the Constitution Act, 1982.
With that, Canada formally assumed authority over its Constitution - a critical step to full sovereignty. Until that day, only the British Parliament could amend our Constitution. The Constitution Act, 1982, patriated or brought home the British North America Act of 1867 by changing its name and turning it into a wholly Canadian law that only the Government of Canada could amend. It also enacted the Canadian Charter of Rights and Freedoms, guaranteeing fundamental rights and freedoms for Canadians.
The Charter has irrevocably changed Canada and how we live. It strengthens civil liberties and places more limits on police powers. The Charter affirms that every individual is equal under the law and has equal protection and benefit of the law - which has been a crucial guarantee for minority groups. Canadians fully embrace the Charter as an important national symbol, and it has been a model for other countries' legislation on human rights. It has earned Canada accolades as a fair and just society.
The unveiling occurred on the very spot where Queen Elizabeth II, Prime Minister Pierre Trudeau and the architects of the Constitution and Charter negotiations made history in 1982.
Canada Post unveiled the Canada 150 Constitution stamp May 3 on Parliament Hill.
Get the full story, interview and video at canadapost.ca/canada150
---
Nunavut
The story of a vast territory - Canada's newest. Created in 1999, Nunavut was the result of the largest Aboriginal land claims agreement in Canadian history.
On April 1, 1999, the creation of Canada's newest territory, Nunavut, was hailed with fanfare including fireworks and traditional Inuit games and dances. The new addition to Canada's political map - the first major change since Newfoundland and Labrador joined Confederation in 1949 - was the result of the largest Aboriginal land claims agreement in Canadian history, which divided the Northwest Territories in two. Decades in the making, Nunavut, meaning "our land" in Inuktitut, is home to mostly Inuit - Indigenous peoples who have occupied the vast Arctic Archipelago part of the region for some 4,000 years.
Nunavut enjoys one of Canada's fastest-growing populations - and one of its youngest - placing the territory at the forefront of Canada's future. The territory covers almost one fifth of the country, encompassing much of the vast Arctic, and includes the northernmost inhabited place in the world: Alert. Its rich wildlife and natural resources promise a prosperous future, with conservation and development guided responsibly by local needs and knowledge.
This stamp, celebrating Canada's newest territory and the people who call it home, was unveiled May 30 at the Legislative Assembly of Nunavut in Iqaluit. Distinguished guests, including representatives from the Government of Nunavut, other honoured individuals, and senior executives from Canada Post paid tribute to a Nunavut that supports Inuit values, strengthens the use of the Inuit language and engages with circumpolar neighbours.
Get the full story, interview and video at canadapost.ca/canada150
---
Marriage Equality
The long road to marriage equality culminated in the 2005 passage of the Civil Marriage Act, which made Canada the fourth country to grant same-sex couples the right to marry the one they love.
For years, LGBTQ Canadians across the country had fought for full legal equality, with each victory a stepping stone to the next. But until roughly a decade ago, a Canadian still could not legally marry someone of the same gender.
This stamp recognizes the achievement of marriage equality in Canada - and highlights the struggle that led to it.
In January 2001, Rev. Brent Hawkes, community activist and minister at Metropolitan Community Church in Toronto, published banns, alternative marriage licences under Ontario law for church ceremonies. He then performed a legal marriage for two couples, one gay, the other lesbian. When a city official refused to register the marriage record of both, the church sued the City of Toronto, the province and the federal government. On July 12, 2002, the Ontario Superior Court ruled that prohibiting gay couples from marrying violated the Canadian Charter of Rights and Freedoms. The following year, Ontario became the third jurisdiction in the world to legally recognize same-sex marriage, followed by eight provinces and territories - all thanks to dedicated activism throughout the country.
On July 20, 2005, when the federal Civil Marriage Act became law, Canada became the fourth country to achieve marriage equality.
On May 9, Canada Post joined members of the LGBTQ community at The 519 in Toronto, a city organization dedicated to advocacy for the inclusion of LGBTQ communities, to unveil the stamp.
Get the full story, interview and video at canadapost.ca/equality
---
Olympic Games
Our stamps and stories explore the impact of those Olympiads and celebrate athletic ability and the human spirit.
Canada's Olympic history is full of stories. There are those of Greg Joy winning silver in high jumping in Montréal and Elizabeth Manley capturing silver in figure skating in Calgary. And then there's Alexandre Bilodeau's gold medal performance in men's moguls freestyle skiing in Vancouver - the first Olympic gold for Canada on home soil. Our athletes went on to win 14 gold medals in Vancouver - the most gold medals ever won by any country at a single Olympic Winter Games.
Canadians have always celebrated the achievements of their Olympic athletes, but it means so much more when Canada gets to play host to the world. There have been three Olympic Games in Canada - the Montréal 1976 Summer Olympics, the Calgary 1988 Winter Olympics and the Vancouver 2010 Winter Olympics. Thousands of ordinary Canadians carried the Olympic torch during the relays.
The Olympic Games have boosted our sense of national pride; they have inspired our nation, left an indelible mark on our country and showcased Canada to the world. They have produced iconic Canadian moments and inspired generations of Olympians. To this day, one can see the lasting legacy of facilities that have benefited the host cities of Montréal, Calgary and Vancouver - as well as the athletes who continue to use them for training. Canada and the Olympics - it has been an amazing story.
Get the full story, interview and video at canadapost.ca/canada150
---
Paralympic Glory
We mark two events on Canadian soil - the 1976 and 2010 Paralympics.
Canada has been at the forefront of the Paralympic movement for decades and our athletes have participated in every Summer and Winter Paralympic Games since 1968. That year, thanks to the efforts of Dr. Robert Jackson, a Toronto orthopedic surgeon, Canada sent 22 wheelchair athletes to compete at the Summer Paralympic Games in Tel Aviv, Israel. Since that time, Canada's Paralympic athletes have exemplified courage and determination, and redefined the limits of physical and mental endurance.
Canadians have proudly hosted two Paralympic Games. In 1976, Dr. Jackson's efforts led to Canada's first Games in Toronto, known as the Torontolympiad, where athletes with an amputation or visual impairment competed for the first time. In 2010, the Paralympic Winter Games were held in Vancouver, where Canadian athletes collected 10 gold medals.
Canada's Paralympic athletes stand among the best in the world. At the Torontolympiad, Arnold Boldt set world records in the high jump and long jump, and swimmer Tim McIsaac launched a career that would see him become Canada's most successful Paralympian, with 28 medals. Wheelchair racer Chantal Petitclerc, now a senator, won 14 gold, five silver and two bronze medals between 1992 and 2008, when she was named Canada's athlete of the year. At the 2010 Paralympic Winter Games in Vancouver, Para alpine skier Lauren Woolstencroft - featured on the stamp - became the first Canadian Paralympian to win five gold medals at a single Winter Games. Para Nordic skier Brian McKeever, who made history when he was named to the Olympic and Paralympic teams in 2010, earned three gold medals at the Vancouver Paralympics and now has 13 medals to his name, including 10 gold.
This stamp was unveiled in Vancouver with the help of some of Canada's most decorated Paralympic athletes.
Get the full story, interview and video at canadapost.ca/canada150