Canada Post Community Foundation
September 21, 2017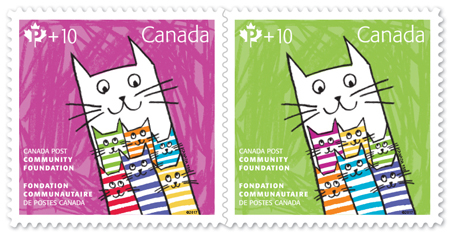 In an exclusive interview, Details had an opportunity to speak with one of the fascinating felines that grace our 2017 Foundation stamps.
Details: Artist and designer Andrew Lewis says he chose cats for the Canada Post Community Foundation stamps because they're cheeky, inquisitive and independent, though they will always love you and be there when you need them the most. They also nurture their young to be self-reliant, confident and curious. Do you agree?
Cat: Absolutely. I think we're a terrific symbol for the Foundation. We are curious, we are independent and we want human kids to have those qualities. We're all about jumps and leaps and climbing high. The Foundation wants kids to climb as high as they can. The Foundation does great things. Ditto for us cats.
The extra $1 paid for a booklet of these stamps (and 10¢ for the Official First Day Cover) goes directly to the Canada Post Community Foundation.
Details: What would some of those great things be?
Cat: Let's say you put an important piece of paper down on the table. We will work hard to get all four paws on that paper. It's not going to get away. We are nature's paperweight. And then there are the countless hours we spend knocking things off countertops to ensure gravity is still working. We get it done. The struggle is real.
The Foundation funds local and national non profit groups that bring positive change to Canadian children and youth.
Details: What else would you like our readers to know?
Cat: That the stamps are amazingly handsome. Andrew did himself and us proud. I would also tell them that the extra $1 for each booklet of stamps makes a huge difference in the lives of children and youth. Over the years, thanks to customers and collectors, $6 million has gone straight into deserving initiatives. Belly rubs all around, folks, for a job well done.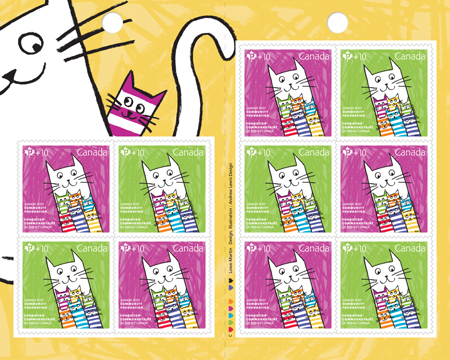 Booklet of 10 stamps
$9.50
Product #: 414054111
Denomination: 2 x Permanent™ (domestic rate) + 10¢ donation
Dimensions: 32 mm x 32 mm
Printing Process: Lithography in 8 colours
Quantity: 160,000
OFDC Cancellation Location: Ottawa ON
Shop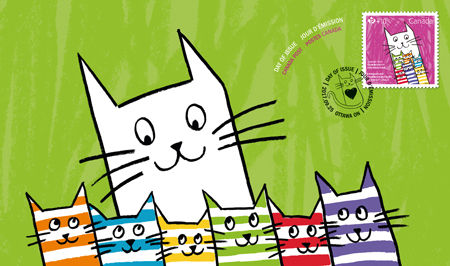 Official First Day Cover (green)
$1.95
Product #: 414055131
Denomination: 2 x Permanent™ (domestic rate) + 10¢ donation
Dimensions: 190 mm x 112 mm
Quantity: 8,000
OFDC Cancellation Location: Ottawa ON
Shop
Official First Day Cover (pink)
$1.95
Product #: 414054131
Denomination: 2 x Permanent™ (domestic rate) + 10¢ donation
Dimensions: 190 mm x 112 mm
Quantity: 8,000
OFDC Cancellation Location: Ottawa ON
Shop