Diwali: First joint issue with India Post
September 21, 2017
This year, the 15th day of Kartika in the Hindu calendar falls on October 19 to mark the beginning of Diwali, the Festival of Lights, which is celebrated by Hindus, Sikhs, Buddhists and Jains throughout Canada and around the world. For the occasion, Canada Post and India Post released their first joint issue one month before the festival.
The Canadian special commemorative stamp, which can be reprinted based on demand, was designed by Doreen Colonello at Entro Communications. It is part of our second issue this year on multicultural events.
Illumination is believed to ward off evil and attract happiness and good fortune. In keeping with these beliefs, annual Diwali traditions include fireworks and the lighting of rows of small clay lamps – much like the ones depicted on the stamps. Colourful geometric rangoli patterns are created using such things as rice, paint, sand or flower petals. Also, special sweets are enjoyed and gifts exchanged.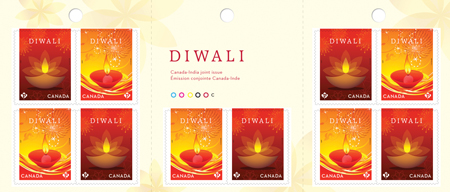 Booklet of 10 stamps
$8.50
Product #: 414063111
Denomination: 2 x Permanent™ (domestic)
Dimensions: 30 mm x 36 mm
Printing Process: 5 colours + varnish
Quantity: 300,000
OFDC Cancellation Location: Toronto ON
Shop