Toronto Maple Leafs® 100th Anniversary
October 17, 2017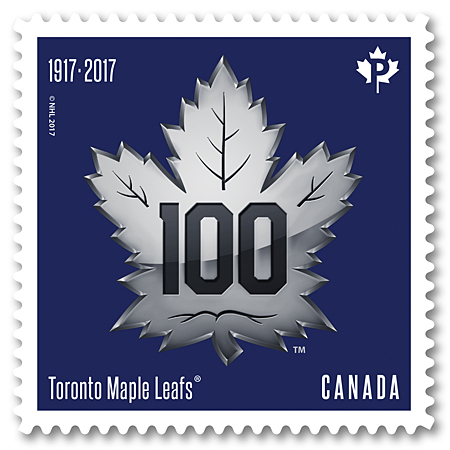 One hundred years ago, the Toronto Arenas entered the newly formed National Hockey League® (NHL®) for the 1917-18 season. Despite losing its inaugural game to the Montreal Wanderers on December 19, 1917, the team proved its mettle, defeating the Vancouver Millionaires to claim the first Stanley Cup® Championship following the establishment of the NHL. The team played as the Toronto St. Pats from 1919 to 1927, when new manager Conn Smythe renamed it the Toronto Maple Leafs. Stirred by patriotism, Smythe chose a crest that was reminiscent of the badge that he and his fellow Canadian soldiers wore into battle during the First World War.
To mark the team's centennial, Canada Post has unveiled several stamps, including a salute to the team's centennial crest, plus a philatelic first and a roster of collectibles for stamp collectors and members of the Leafs Nation.
The three stamps that anchor the issue were designed by Lionel Gadoury and Dave Hurds of Toronto-based Context Creative. A coil of 50 stamps bearing the 100th anniversary Toronto Maple Leafs logo is paired with a free commemorative stamp dispenser in the shape of a puck. A book of 10 domestic-rate stamps features the team's new centennial anniversary logo, a redesigned maple leaf with 17 veins for the franchise's founding year and 31 points in a nod to the opening of Maple Leaf Gardens in 1931. The 13 veins in the top part of the new logo mark the club's Stanley Cup Championship victories to date.
The innovative third stamp is a philatelic first. Canada Post has adhered a miniature fabric crest to this $5 stamp, which is available only in a souvenir sheet, complete with commemorative packaging. The result is a unique and tactile stamp that simulates the texture and stitching of the crest sported by the Leafs during their first dynasty era. The issue also displays a vintage sweater belonging to Ted "Teeder" Kennedy, who played centre for the Toronto Maple Leafs during his entire career – 1942-43 to 1956-57. Kennedy also captained the team for eight seasons and, along with teammate Turk Broda, was the first Leafs member in NHL history to win five Stanley Cup Championships.
The rest of the issue includes a set of three collectible envelopes, each one affixed with a different stamp from the issue and a different cancel, as well as a commemorative framed enlargement – all in celebration of 100 years of the Toronto Maple Leafs.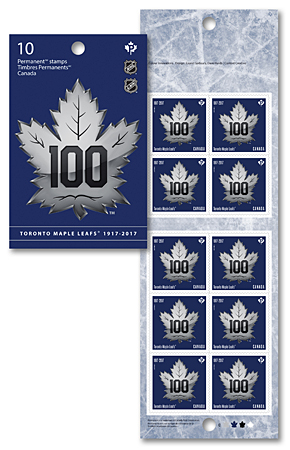 Booklet of 10 stamps
$8.50
Product #: 414064111
Denomination: Permanent™ (domestic rate)
Design: Lionel Gadoury, David Hurds (Context Creative)
Dimensions: 32 mm x 32 mm
Printer: Lowe-Martin, Colour Innovations
Printing Process: Lithography in 2 colours, 1 special ink, varnish
Quantity: 300,000
Gum Type: PVA
Tagging: none
OFDC Cancellation Location: Toronto ON
Shop