Christmas – Animals
November 09, 2017

Every year Canadians eagerly anticipate the release of Canada Post's Christmas stamps. The annual issues have featured sacred and secular topics ranging from angels and other aspects of the nativity story to snowmen, toys, decorated trees and, of course, the jolly old elf himself.
Animals have long played a role in our festive philatelic expressions and the three depicted on this year's secular Christmas stamps not only embody the holiday spirit but also showcase some of our nation's wild inhabitants. The PermanentTM domestic-rate polar bear peers wistfully at a star-filled night sky – perhaps making a Christmas wish. The brilliant, U.S.-rate cardinal is a cheery splash of red on a bright winter day, while the international-rate caribou, his antlers festooned with lights, reminds us of his storied relatives who spend Christmas Eve making special deliveries.
Illustrator Christiane Beauregard wanted the three images to convey a poetic winter ambiance. "As the creative process unfolded, the animals took on different personalities, each fashioning a life of its own. I was inspired by the challenge of bringing a trio of iconic identities into a coherent and unified scenario by being attentive to composition and simple detail," she says.
Canada Post is proud to carry on this endearing annual tradition and make your holiday mail more festive.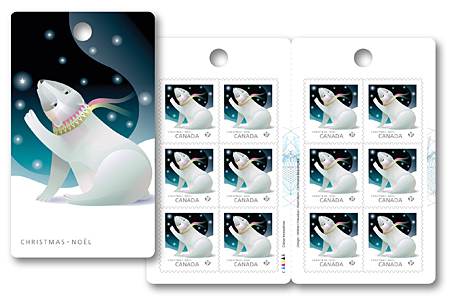 Booklet of 12 stamps
$10.20
Product #: 113868
Denomination: Permanent™ (domestic rate)
Design: Hélène L'Heureux
Dimensions: 22 mm x 24 mm
Printer: Colour Innovations
Printing Process: Lithography in 6 colours
Quantity: 1,000,000
Gum Type: PVA
Illustration: Christiane Beauregard
OFDC Cancellation Location: Cardinal ON
Shop