Women in Winter Sports
January 24, 2018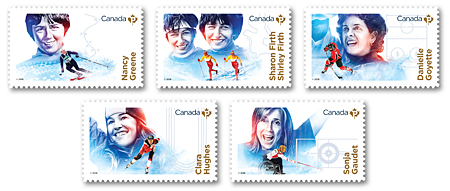 As our best winter athletes prepare to compete in 2018, Canada Post is issuing a set of five stamps to celebrate the achievements of six amazing Canadian superstars who topped the podium in a variety of winter sports.
The six athletes honoured are Shirley and Sharon Firth, who amassed a combined 79 medals and competed in four consecutive Olympic Winter Games; Sonja Gaudet, the world's most decorated wheelchair curler, who played lead for Canada's gold-medal-winning team at the past three Paralympic Winter Games; Danielle Goyette, a driving force on Canada's National Women's Hockey Team for 16 seasons, who won Olympic gold twice; Nancy Greene, named Canada's female athlete of the 20th century, with 13 international victories and two overall titles, plus two Olympic medals; and speed skater Clara Hughes, the only Olympian to win multiple medals at the Winter and Summer Games.
In depicting Canadian women powerhouses in winter sports, Subplot's design team set out to create a look that, according to creative director Roy White, "would celebrate the joy, endurance and dedication that has gone into their illustrious achievements over their careers." Each stamp features a duotone portrait of the athlete in a moment of celebration, as well as a full-colour, freeze-frame action shot representing a defining moment in her career.
Stamp Specifications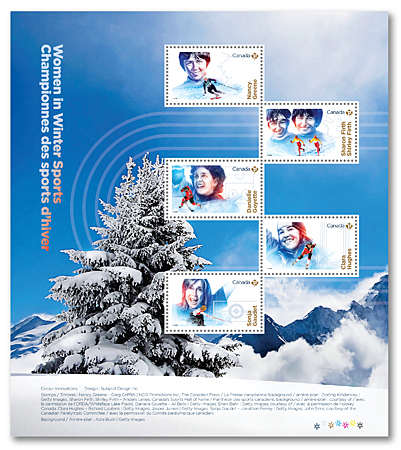 Product #: 404071107
Layout: Pane of 5 stamps
Price: $4.25
Denomination: 5 x Permanent™ (domestic rate)
Design: Subplot Design Inc.
Photo: Nancy Greene – Greg Griffith | NGR Promotions Inc.; The Canadian Press; background: Dorling Kindersley | Getty Images. Sharon Firth, Shirley Firth – Anders Lenes; Canada's Sports Hall of Fame; background: courtesy of ORDA/Whiteface Lake Placid. Danielle Goyette – Al Bello | Getty Images; Brian Bahr | Getty Images; courtesy of Hockey Canada. Clara Hughes – Richard Lautens | Getty Images; Jasper Juinen | Getty Images. Sonja Gaudet – Jonathan Ferrey | Getty Images; John Sims; courtesy of the Canadian Paralympic Committee. Background: Adie Bush | Getty Images.
Dimensions: 180 mm x 159 mm
Printer: Colour Innovations
Printing Process: Lithography in 5 colours
Quantity: Continuous printing
---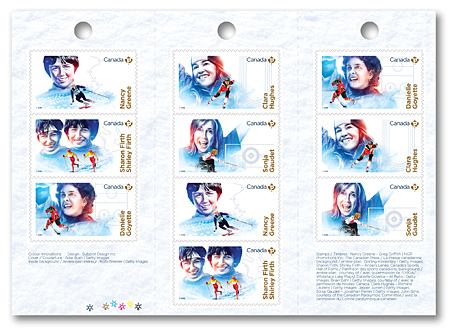 Product #: 414071111
Layout: Booklet of 10 stamps
Price: $8.50
Denomination: 5 x Permanent™ (domestic rate)
Design: Subplot Design Inc.
Photo: Nancy Greene – Greg Griffith | NGR Promotions Inc.; The Canadian Press; background: Dorling Kindersley | Getty Images. Sharon Firth, Shirley Firth – Anders Lenes; Canada's Sports Hall of Fame; background: courtesy of ORDA/Whiteface Lake Placid. Danielle Goyette – Al Bello | Getty Images; Brian Bahr | Getty Images; courtesy of Hockey Canada. Clara Hughes – Richard Lautens | Getty Images; Jasper Juinen | Getty Images. Sonja Gaudet – Jonathan Ferrey | Getty Images; John Sims; courtesy of the Canadian Paralympic Committee. Background: Adie Bush | Getty Images.
Dimensions: 40 mm x 24 mm
Printer: Colour Innovations
Printing Process: Lithography in 5 colours
Quantity: Continuous printing
---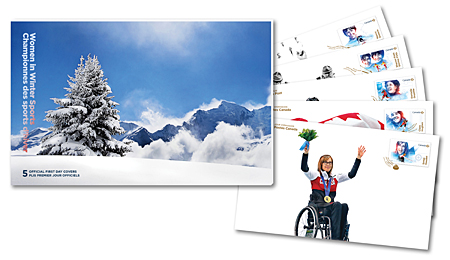 Product #: 414071131
Layout: Official First Day Covers
Price: $9.25
Denomination: Permanent™ (domestic rate)
Design: Subplot Design Inc.
Photo: Nancy Greene – Greg Griffith | NGR Promotions Inc.; The Canadian Press; background: Dorling Kindersley | Getty Images. Sharon Firth, Shirley Firth – Anders Lenes; Canada's Sports Hall of Fame; background: courtesy of ORDA/Whiteface Lake Placid. Danielle Goyette – Al Bello | Getty Images; Brian Bahr | Getty Images; courtesy of Hockey Canada. Clara Hughes – Richard Lautens | Getty Images; Jasper Juinen | Getty Images. Sonja Gaudet – Jonathan Ferrey | Getty Images; John Sims; courtesy of the Canadian Paralympic Committee. Background: Adie Bush | Getty Images.
Dimensions: 190 mm x 112 mm
Printer: Colour Innovations
Printing Process: Lithography in 5 colours
Quantity: Continuous printing