Black History: Livingstone and Alexander
February 01, 2018
Issued on the first day of Black History Month, these stamps recognize the contributions of two prominent, ground-breaking Canadians.
Kathleen (Kay) Livingstone (1918-75)
A long-time Toronto resident, Kathleen Livingstone was an activist, humanitarian and popular radio host devoted to the empowerment of Black women. She founded the Canadian Negro Women's Association in the 1950s and, in 1975, launched the Congress of Black Women of Canada – now a nationwide organization. In 2011, she was named a Person of National Historic Significance by the Government of Canada.
"We are thrilled that people will learn not only about her efforts but also about the kind of person she was: a mother who served her family and a humanitarian who served her people, her city and her country," says her daughter, Rene Livingstone. "She did it generously and she did it well."
Lincoln M. Alexander (1922-2012)
Toronto-born Lincoln MacCauley Alexander had a distinguished career as a public servant and became a leader in the fight for racial equality. He was the first Black Canadian to be elected to the House of Commons (1968), appointed to the federal Cabinet (1979) and named to a viceregal position in Canada, as Lieutenant Governor of Ontario (1985). He encouraged countless young people to pursue their dreams – often telling them, "I did it. You can. You will."
Both stamps, designed by Winnipeg-based Tétro, evoke the personal strength of these great Canadians through historic photographs. "The images selected capture a moment that is both internally reflective and formidable," says designer Paul Tétrault. "The gold metallic glow pays tribute to their visionary influence and trailblazing achievements."
Stamp Specifications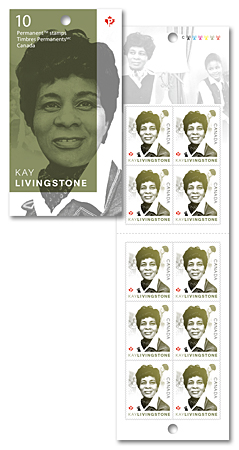 Product #: 414078111
Layout: Booklets of 10 stamps
Price: $8.50
Denomination: Permanent™ (domestic rate)
Design: Tétro
Photo: Livingstone – Livingstone family; Bob Olsen, Dick Darrell, Toronto Star, Getty Images; Andrew F. Kazmierski, 123RF. Alexander – The Hamilton Spectator; tzara, iStock; Boris Spremo, Toronto Star, Getty Images.
Dimensions: 32 mm x 40 mm
Printer: Lowe-Martin
Printing Process: Lithography in 6 colours
Quantity: Continuous printing
---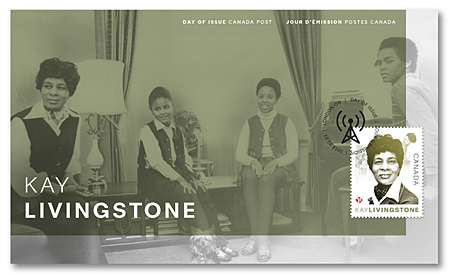 Product #: 414078131
Layout: Official First Day Covers
Price: $1.85
Denomination: Permanent™ (domestic rate)
Design: Tétro
Photo: Livingstone – Livingstone family; Bob Olsen, Dick Darrell, Toronto Star, Getty Images; Andrew F. Kazmierski, 123RF. Alexander – The Hamilton Spectator; tzara, iStock; Boris Spremo, Toronto Star, Getty Images.
Dimensions: 190 mm x 112 mm
Printer: Lowe-Martin
Printing Process: Lithography in 6 colours
Quantity: Continuous printing
---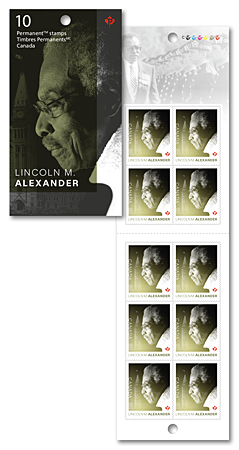 Product #: 414077111
Layout: Booklets of 10 stamps
Price: $8.50
Denomination: Permanent™ (domestic rate)
Design: Tétro
Photo: Livingstone – Livingstone family; Bob Olsen, Dick Darrell, Toronto Star, Getty Images; Andrew F. Kazmierski, 123RF. Alexander – The Hamilton Spectator; tzara, iStock; Boris Spremo, Toronto Star, Getty Images.
Dimensions: 32 mm x 40 mm
Printer: Lowe-Martin
Printing Process: Lithography in 6 colours
Quantity: Continuous printing
---
Product #: 414077131
Layout: Official First Day Covers
Price: $1.85
Denomination: Permanent™ (domestic rate)
Design: Tétro
Photo: Livingstone – Livingstone family; Bob Olsen, Dick Darrell, Toronto Star, Getty Images; Andrew F. Kazmierski, 123RF. Alexander – The Hamilton Spectator; tzara, iStock; Boris Spremo, Toronto Star, Getty Images.
Dimensions: 190 mm x 112 mm
Printer: Lowe-Martin
Printing Process: Lithography in 6 colours
Quantity: Continuous printing