Emergency Responders
September 14, 2018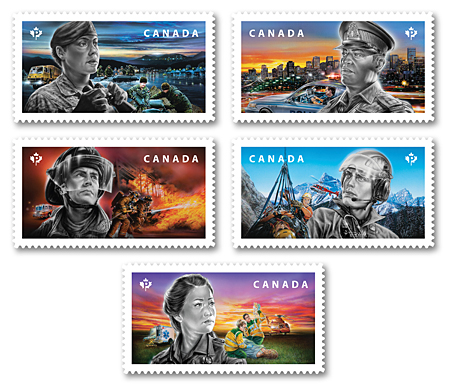 When disaster strikes, Canada's emergency responders are ready to help at a moment's notice. Thanks to their quick and courageous actions, Canada is one of the safest countries in the world. This five-stamp tribute, designed by William Lam and illustrated by Shiro Nishiguchi, recognizes the life-saving work of these dedicated women and men. Each design features a single resolute figure in the foreground with a scene representing the teamwork, cooperation and determination required to be among Canada's emergency responders.
Canadian Armed Forces
Floods, forest fires, ice storms and other natural disasters sometimes cause so much destruction that local emergency-response efforts become overwhelmed. Members of the Canadian Armed Forces are then ready to assist. Deployed around the world in international combat operations and peacekeeping missions, the Forces serve as a critical last line of defence at home. Experts in such areas as engineering, health services, aviation, logistics and the use of specialized equipment, regular and reserve members help conduct evacuations, deliver aid, provide transportation, execute search and rescue missions, and perform other critical tasks during emergencies in Canada and abroad.
Firefighters
Part-time, full-time and volunteer firefighters protect lives, property and environments across Canada. At the ready 24 hours a day, they spring into action at a moment's notice, regardless of when or where disaster strikes. Although firefighters are well known for bravely facing off against flames, their duties go beyond fighting fires and rescuing victims trapped in burning buildings. They assist with many other life-threatening events, including rescue operations, motor vehicle accidents and hazardous-material emergencies. Firefighters also make Canada a safer place by educating us about fire prevention, escape planning, and building and fire codes.
Paramedics
Canada's highly trained paramedics deliver life--saving care to individuals experiencing medical emergencies in the critical minutes before they arrive at a hospital. They're ready to face almost any situation – from heart attacks and drug overdoses to accidents, natural disasters and incidents involving multiple casualties. As front-line medical experts, they make a vital contribution to public health and safety. From treating patients and transporting them to health care facilities to delivering community paramedicine programs in areas of need, the duties of paramedics put them at the centre of our most vulnerable moments. Thanks to their courage, compassion and expertise, we know we're in good hands.
Police Officers
Canada is one of the safest countries in the world due in large part to the civilian and sworn members of our police forces, who perform critical – and often dangerous – work with compassion, integrity and professionalism. Their many duties include providing emergency assistance in cases of crime, natural and human-caused disasters, accidents and other life-threatening situations. Through community patrols, security services, investigations and other means, police officers work tirelessly to protect Canadians and visitors from harm. Internationally respected for their expertise, our police officers are also deployed to countries around the world to assist in times of crisis.
Search and Rescue Experts
Visit Canada's magnificent coastlines, mountains, forests and waterways and you'll see why they attract so many outdoor enthusiasts. But changing weather, challenging terrain and human error can sometimes spell disaster. When that happens, Canada's search and rescue technicians are there to help, trained extensively in survival, first aid, parachuting, diving and mountain climbing. Whether from the Canadian Coast Guard, Canadian Armed Forces, Parks Canada or a provincial, territorial or volunteer organization, these elite experts do their best to find and save those who are lost, hurt or stranded.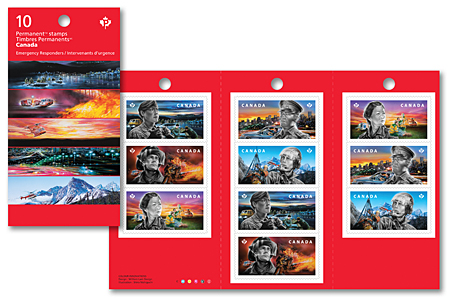 Booklet of 10 stamps
$8.50
Product #: 414091111
Denomination: 5 x Permanent™ (domestic rate)
Design: William Lam Design
Dimensions: 48 mm x 26 mm
Printer: Colour Innovations
Printing Process: Lithography in 5 colours
Quantity: 400,000
Illustration: Shiro Nishiguchi
Shop