Canada Post Community Foundation
September 24, 2018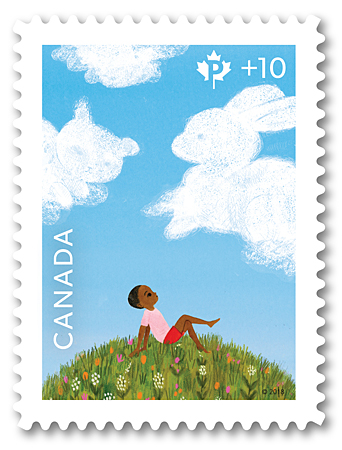 The release of the Canada Post Community Foundation's fundraising semi-postal stamp signals the start of Canada Post's annual fundraising campaign. Your dollar donation for a booklet of 10 stamps and 10 cents for the Official First Day Cover goes directly to support Canadian children and youth, through the funding of programs for breakfast, anti-bullying, special education, camps for children fighting illness, early literacy and other programs.
Designer Matthew Warburton of Emdoubleyu Design says of the inspiration behind the stamp, "Everyone can recall days from their childhood, spending a hot summer afternoon lying in the grass looking up at the clouds rolling by. This design recreates that feeling of freedom, wonderment and joy with a child sitting on a grassy, flower-speckled hilltop, looking up at the sky and seeing animal shapes in the fluffy clouds." The stamp was illustrated by Julie Morstad, one of Canada's top illustrators of children's books, whose work is honoured frequently in the Alcuin Society Book Awards.
Thanks to the generosity of our customers in 2017, the Canada Post Community Foundation provided $1.1 million in funding to grassroots and community-based child and youth organizations across the country.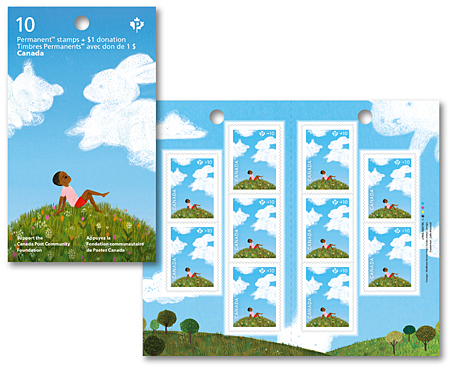 Booklet of 10 stamps
$9.50
Product #: 414089111
Denomination: Permanent™ (domestic rate)
Design: Matthew Warburton | Emdoubleyu Design
Dimensions: 24 mm x 32 mm
Printer: Lowe-Martin
Printing Process: Lithography in 4 colours
Quantity: 160,000
Illustration: Julie Morstad
Shop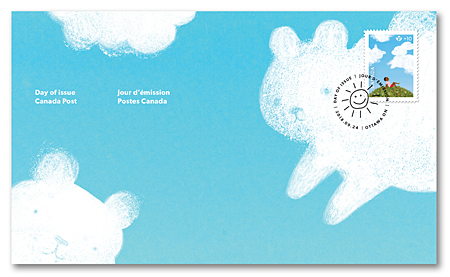 Official First Day Cover
$1.95
Product #: 414089131
Denomination: Permanent™ (domestic rate) + 10¢ donation
Design: Matthew Warburton | Emdoubleyu Design
Dimensions: 190 mm x 112 mm
Printer: Lowe-Martin
Quantity: 7,000
Illustration: Julie Morstad
Shop