Christmas: Warm and Cozy
November 02, 2018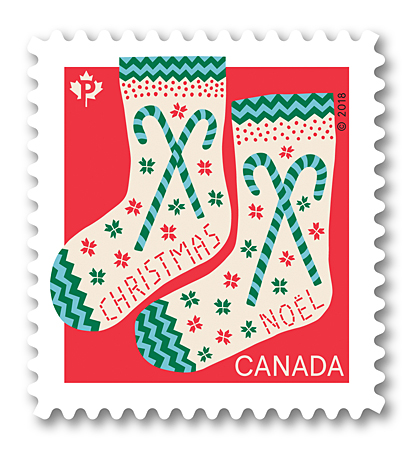 This year, Canada Post continues its long tradition of Christmas stamps with a secular issue that's designed to inspire plenty of warm thoughts. The three stamps – domestic, U.S. and international rates – display colourful folk-art inspired depictions of traditional cold-weather wear, the very items you'll likely find under many trees this Christmas.
Did you know European settlers brought wool-producing sheep to North America, as early as the mid-17th century, to keep their families' feet warm with knitted socks? Or that worsted caps worn by voyageurs are possibly the predecessor of what we now call toques? What about early Canadians who definitely warmed up with fur-lined mitts made of animal skin, a style that likely originated with the Inuit? In Canada, even dressing for the cold connects us with the past.
At this gift-giving time of year, Canada Post will deliver on the wish list of discerning collectors with a limited edition uncut production press sheet that features multiple booklets from this issue, along with booklets of the 2018 sacred Christmas stamp (page 10). Also included is a bonus pack of all four stamp booklets plus two Official First Day Covers and a souvenir sheet. Unlike uncut press sheets specifically designed as collectibles, the production press sheet is made up of actual booklets before they're cut for sale. This Canada Post first is sure to make the season very merry and bright for collectors.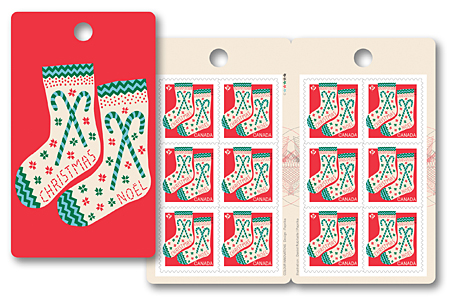 Booklet of 12 stamps
$10.20
Product #: 114099
Denomination: Permanent™ (domestic rate)
Design: Paprika
Dimensions: 22 mm x 24 mm
Printer: Colour Innovations
Printing Process: Lithography in 5 colours
Quantity: 1,000,000
Gum Type: PVA
Illustration: Daniel Robitaille | Paprika
Shop