Gardenia
February 14, 2019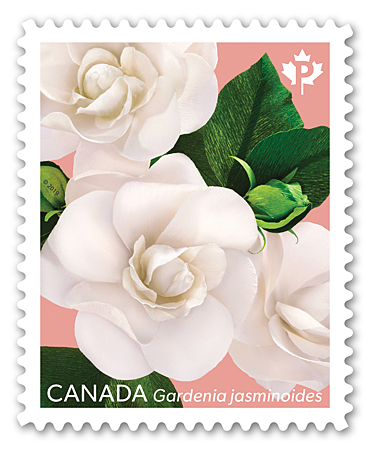 Issue date: February 14, 2019
Issued on the day of the year devoted to love and affection, these stamps showcasing the elegance of the Cape jasmine gardenia (Gardenia jasminoides) will add a romantic touch to your mail or collection.
The newest addition in our annual flower series, this popular variety is named for its sweet perfume, which is reminiscent of the heady fragrance of a jasmine blossom. Many wedding invitations are mailed with our flower stamps, so the much-beloved, creamy-white beauty seemed an ideal choice for a stamp design – especially since gardenias in Victorian times would suggest "I think you're lovely."
Designed by Andrew Conlon and Lionel Gadoury, of Context Creative – with artwork by Chantal Larocque, inspired by a photograph by Natasha V. – these delightful stamps will pin an attractive corsage on your next piece of mail.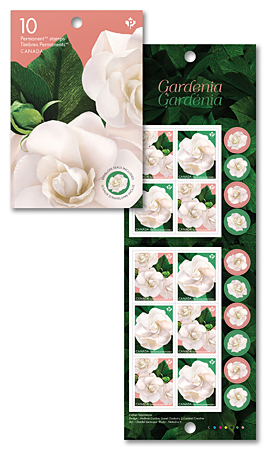 Product #: 414105111
Denomination: 2 x PermanentTM (domestic rate)
Design: Andrew Conlon, Lionel Gadoury | Context Creative
Dimensions: 26 mm x 32 mm
Printer: Colour Innovations, Lowe-Martin
Printing Process: Lithography in 6 colours
Quantity: 800,000
Gum Type: PVA
Shop