Canadians in Flight
March 27, 2019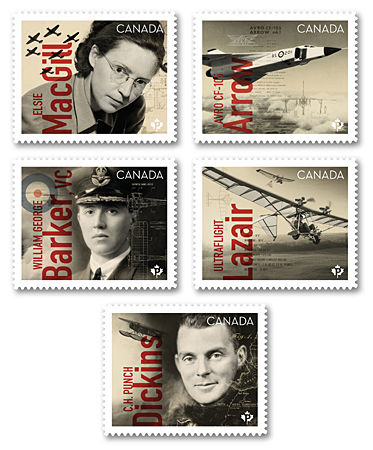 For millennia, we have looked skyward, longing to break the bonds of the earth to soar among the clouds. Canada has had its share of pioneers who bravely reached for the skies when flight was in its infancy or who used their gifts and vision to create new and better ways to fly. This stamp issue, designed by Ivan Novotny of Taylor|Sprules Corporation, celebrates three individuals and two aircraft that took Canadian aviation to new heights.
Elsie MacGill
Vancouver-born Elizabeth Muriel Gregory (Elsie) MacGill was an aviation engineering pioneer in an era when women faced significant hurdles pursuing careers in science and technology. MacGill accomplished an astonishing number of firsts. She was the first woman in Canada to earn a degree in electrical engineering and is thought to be the first woman in the world to hold a master's degree in aeronautical engineering. She was recognized as the first female aeronautical engineer and professional aircraft designer in the world, the first woman elected to corporate membership in the Engineering Institute of Canada, and the first woman to chair a United Nations technical committee.
In 1938, MacGill was hired as chief aeronautical engineer at the Canadian Car and Foundry plant in Fort William, now Thunder Bay, Ontario. She designed all major components of the firm's Maple Leaf Trainer II aircraft. During the Second World War, the manufacturer was contracted to supply the Royal Air Force with Hawker Hurricanes. MacGill guided their production and oversaw design refinements for a modular system that simplified construction, repair and parts replacement. MacGill, who was celebrated in a wartime comic book as "Queen of the Hurricanes," later advocated for equal rights and served as an influential member of the Royal Commission on the Status of Women.
Avro Arrow
Possibly one of the best known planes that never saw mass production, the Avro CF-105 Arrow was a twin-engine, supersonic, interceptor aircraft. It was designed and produced by A.V. Roe (Avro) Canada and its two subsidiaries – Avro Aircraft and Orenda Engines – in what was then the town of Malton, today part of Mississauga, Ontario. Developed between 1953 and 1959 to bolster North American defence in the postwar era, the delta-winged Arrow is considered one of the greatest technological achievements in Canadian aviation history. The Arrow, capable of flying at more than twice the speed of sound, was the first aircraft to adopt a "fly by wire" automated flight control system, and it featured a weapons bay that could hold almost any size weapon. Its Iroquois PS-13 engine offered groundbreaking advancements in power, lightness of weight and fuel efficiency.
The first Arrow (RL-201) was completed in October 1957. The following March, test pilot Jan Żurakowski made a successful 35-minute flight from Malton Airport (now Toronto's Lester B. Pearson International Airport). Five Arrows were produced before the program was cancelled on February 20, 1959.
William George Barker, VC
Born in a log cabin near Dauphin, Manitoba, William George Barker, VC, was a First World War pilot with the Royal Air Force who became (and remains) the most decorated member of the military in the history of Canada and the British Empire. For his wartime deeds and bravery, including 50 aerial victories in more than 900 hours of combat, Barker received the Distinguished Service Order (twice), the Military Cross (three times), the Croix de Guerre and the Medaglia d'Argento al Valor Militare (twice). He was awarded the Victoria Cross for downing four German planes during his final fight over France in October 1918, despite being vastly outnumbered and falling in and out of consciousness from his wounds.
Back in Canada after the war, Barker and fellow flying ace Billy Bishop formed Bishop-Barker Aeroplanes Limited, one of Canada's first commercial air services. In a round-trip aerial race from Toronto to New York in 1919, Barker became the first Canadian pilot to carry international airmail. In 1921, he became the first to fly commercial cargo between the United States and Canada. Barker was appointed the first president of the Toronto Maple Leafs® by the hockey team's founder (and fellow Flying Corps member) Conn Smythe. His last, solo dogfight became an instant legend inspiring writers for decades to come. He is a named character in Ernest Hemingway's 1936 short story The Snows of Kilimanjaro.
Lazair
The Ultraflight Lazair – better known as the Lazair – was a family of twin-engine high-wing ultralight monoplanes designed by Dale Kramer of Port Colborne, Ontario. Kramer completed his Lazair prototype in late 1978 and revealed it at the 1979 Sun 'n Fun fly-in and expo, where it won the award for best home-built ultralight. With its true aircraft configuration and 11-metre, glider-like wingspan, the Lazair combined a light, efficient chainsaw motor with modern aircraft materials. Although production ended in 1985, today there are still more Lazairs registered in Canada than any other basic ultralight, and it is considered one of the best light aircraft ever made.
In its early years, the Lazair won top honours in every air show it was entered. In 1982, Kramer flew in exhibition flights at the Paris Air Show. The same year, the Fédération Aéronautique Internationale awarded a Diplôme d'honneur to Kramer's company, Ultraflight Incorporated, for its contributions to the progress of aviation. In 1983, the Canadian Aeronautics and Space Institute presented Kramer with the Roméo Vachon Award for outstanding contribution to the development of aeronautics in Canada. In 1986, he received an Award of Merit from the Ernest C. Manning Awards Foundation for designing, producing and marketing "one of the world's finest ultra-light aircraft."
Punch Dickins
A favourite son of Portage la Prairie, Manitoba, First World War flying ace and Distinguished Flying Cross recipient C.H. "Punch" Dickins was an aviation pioneer and bush pilot. Enlisting in the Canadian Expeditionary Force (196th Battalion) in 1917, he later transferred to the Royal Flying Corps and flew 73 combat missions in the First World War. He later served in the Canadian Air Force, then joined Western Canada Airways, flying the first scheduled airmail delivery from Winnipeg to Edmonton in 1928.
That same year, Dickins made the first reconnaissance flight across the unmapped barren lands of the Northwest Territories in his Fokker Super Universal float plane, covering more than 6,000 kilometres in 37 hours of flying time. For this accomplishment, he received the Trans-Canada Trophy (also known as the McKee Trophy) for outstanding achievement in air operations. During the Second World War, Dickins managed flight training schools as part of the British Commonwealth Air Training Plan, and he headed the Atlantic Ferry Organization, which saw North American-made planes make the dangerous flight overseas to aid the Allies. Dickins held leadership roles at Canadian Pacific Air Lines and at de Havilland Canada, where he influenced the design and launch of the DHC-2 Beaver, often considered the best bush plane ever built. He was the first pilot to log one million miles in flight (1.6 million kilometres).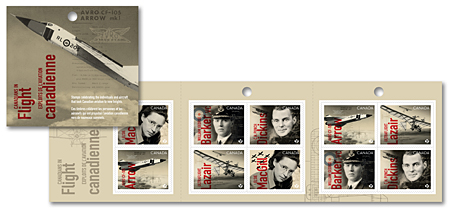 Booklet of 10 stamps
$9.00
Product #: 414106111
Denomination: 5 x Permanent™ (domestic rate)
Design: Ivan Novotny, Taylor|Sprules Corporation
Dimensions: 40 mm x 32 mm
Printer: Lowe-Martin
Printing Process: Lithography in 5 colours
Quantity: 200,000
Gum Type: PVA
Shop