Sweet Canada
April 17, 2019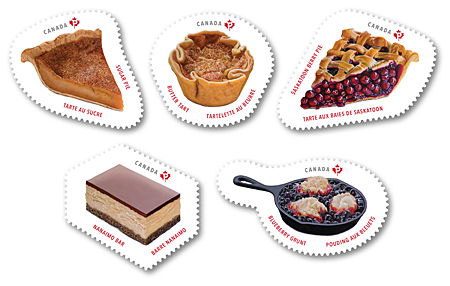 Our country's traditional desserts offer more than just a scrumptious way to end a meal – their origins are a tasty part of our history. These stamps give you a chance to discover the sweet stories behind some of our favourite treats.
Working with designers Roy White and Liz Wurzinger of Vancouver's Subplot Design Inc., illustrator Mary Ellen Johnson began her assignment in the kitchen, baking the five delectable desserts chosen for the stamps, photographing them, and then creating oil paintings of each. Subplot reinforced the culinary concept with a recipe card-inspired design that shows a truly satisfying slice of creativity.
The Nanaimo bar, a no-bake dessert bar, is named after the city of Nanaimo, on Vancouver Island in British Columbia. A crumb crust of chocolatey coconut is topped with rich, creamy custard and covered with a layer of melted chocolate.
An original Canadian recipe, Saskatoon berry pie is a local delight, with the berries, tasting like a mix of almonds and apples, wrapped in flaky pastry. A staple for Indigenous peoples and early settlers, the berries are high in fibre, protein and antioxidants. Their name is derived from the Cree word misâskwatômina, which also inspired the name of the city of Saskatoon, meaning "at the Saskatoon berry."
The earliest published Canadian recipe of butter tarts dates back to 1900. An integral part of eastern Canadian cuisine, this sugary treat has inspired tours and tasting festivals. Ontario's Best Butter Tart Festival and Contest, held annually in Midland, attracts bakers from across the province and is the largest celebration of its kind in Canada.
A staple of Quebec patisseries, sugar pie (tarte au sucre) traces its origins to France. Colonists brought the recipe for the pie along with them – but since brown sugar was a rare commodity in New France, early French-Canadian versions used maple syrup as a sweetener.
Believed to be an early adaptation of an English steamed pudding, blueberry grunt gets the name from the sound it makes as the blueberries bubble and steam under a dumpling topping. The popular dessert has been enjoyed by generations of Maritimers, who came up with this delicious way to use a bumper crop of local blueberries.
Booklet of 10 stamps
$9.00
Product #: 414113111
Denomination: 5 x Permanent™ (domestic rate)
Design: Subplot Design Inc.
Dimensions: 34.40 mm x 30.49 mm
Printer: Canadian Bank Note
Printing Process: Lithography in 6 colours
Quantity: 200,000
Illustration: Mary Ellen Johnson
Shop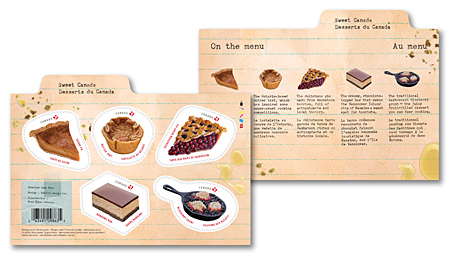 Souvenir sheet of 5 stamps
$4.50
Product #: 404113145
Denomination: 5 x Permanent™ (domestic rate)
Design: Subplot Design Inc.
Dimensions: 127 mm x 90 mm
Printer: Canadian Bank Note
Printing Process: Lithography in 6 colours
Quantity: 80,000
Illustration: Mary Ellen Johnson
Shop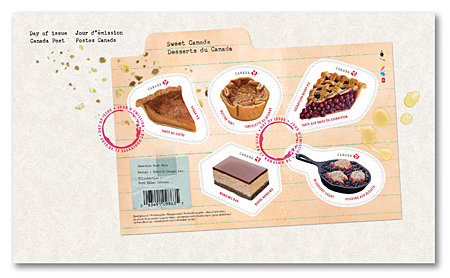 Souvenir sheet Official First Day Cover
$5.50
Product #: 404113144
Denomination: 5 x Permanent™ (domestic rate)
Design: Subplot Design Inc.
Dimensions: 190 mm x 112 mm
Printer: Canadian Bank Note
Quantity: 7,000
Illustration: Mary Ellen Johnson
Shop