Vancouver Asahi
April 25, 2019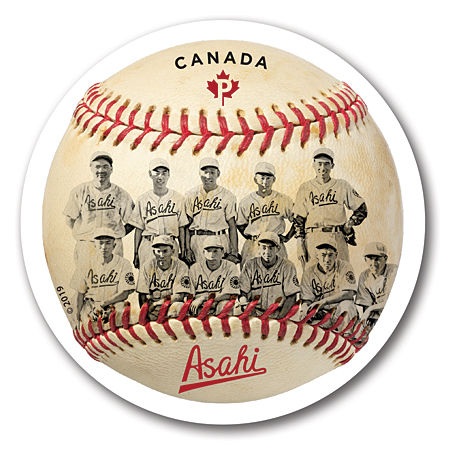 Formed in 1914, during a time of overt racism, the Vancouver Asahi – an amateur Japanese-Canadian baseball team whose name means morning sun – thrilled fans and outwitted competitors with a unique strategy of bunts, base stealing, speed and squeeze plays that the media dubbed "brain ball."
The Asahi became one of the city's most dominant amateur teams and between 1919 and 1941, won multiple league titles in Vancouver and along the Pacific northwest. However, the team was forced to disband after Canada declared war on Japan and interned more than 20,000 Japanese living on the west coast, most of them Canadian citizens.
The Asahi ultimately earned their place in the BC Sports Hall of Fame and the Canadian Baseball Hall of Fame.
The stamp, designed by Vancouver's Subplot Design Inc., features the 1940 team photograph, which includes Kaye Kaminishi (back row, second from left) – the Asahi's last living team member.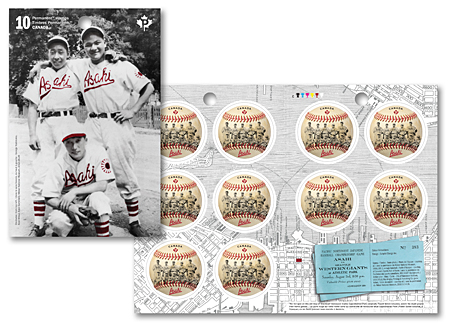 Booklet of 10 stamps
$9.00
Product #: 414112111
Denomination: Permanent™ (domestic rate)
Design: Subplot Design Inc.
Dimensions: 30 mm x 30 mm
Printer: Colour Innovations
Printing Process: Lithography in 5 colours plus varnish
Quantity: 150,000
Shop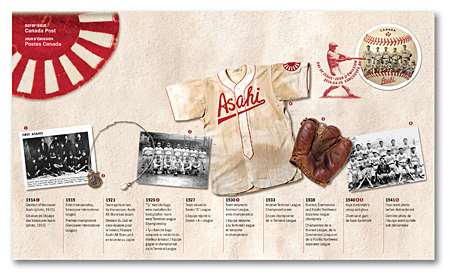 Official First Day Cover
$1.90
Product #: 414112131
Denomination: Permanent™ (domestic rate)
Design: Subplot Design Inc.
Dimensions: 190 mm x 112 mm
Printer: Canadian Bank Note
Quantity: 7,000
Shop