Historic Covered Bridges
June 17, 2019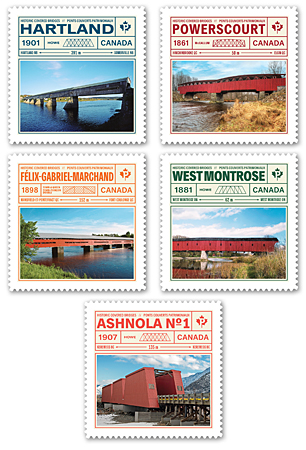 At the end of the 19th century, there were more than 1,400 covered bridges in rural communities across Canada. Today, only an estimated 140 remain.
Opened in 1901 and covered in 1922, New Brunswick's Hartland Bridge is the longest of its kind in the world, spanning 391 metres. An engineering marvel, it boasts seven heavy-timber Howe trusses supported by six piers.
Also known as the Percy Bridge, Quebec's Powerscourt Bridge, built in 1861, is one of Canada's oldest covered bridges and the only known example of the McCallum inflexible arched-truss design that is still in existence.
The Félix-Gabriel-Marchand Bridge, extending 152 metres from end to end, is Quebec's longest covered bridge and one of its oldest. Built in 1898, it is unique in the province for its combination of Queen Post and Town lattice trusses.
Ontario's last remaining historic covered bridge, the 60-metre West Montrose Bridge – opened in 1881 over the Grand River – features Howe trusses and louvered window openings.
The Ashnola No. 1 railroad bridge measuring 135 metres across British Columbia's Similkameen River, was completed in 1907 and rebuilt in 1926 with its Howe trusses sheathed in wood panelling and cross-bracing exposed overhead. It was converted for automobile use in 1961.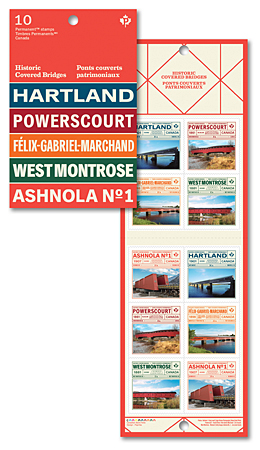 Booklet of 10 stamps
$9.00
Product #: 414115111
Denomination: 5 x Permanent™ (domestic rate)
Design: Paprika
Dimensions: 38 mm x 38 mm
Printer: Canadian Bank Note
Printing Process: Lithography in 9 colours
Quantity: 200,000
Gum Type: PVA
Shop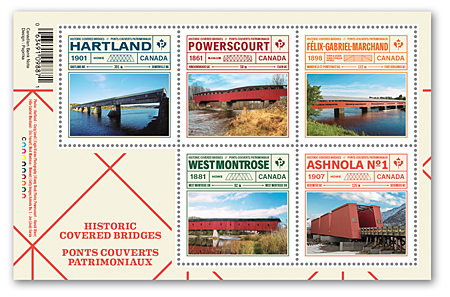 Souvenir sheet of 5 stamps
$4.50
Product #: 404115145
Denomination: 5 x Permanent™ (domestic rate)
Design: Paprika
Dimensions: 134 mm x 86 mm
Printer: Canadian Bank Note
Printing Process: Lithography in 9 colours
Quantity: 80,000
Gum Type: PVA
Shop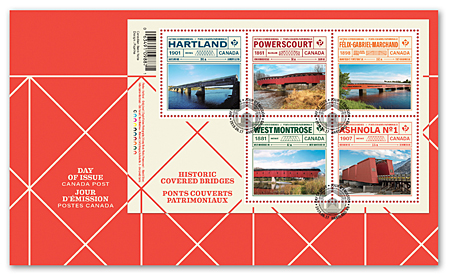 Souvenir sheet Official First Day Cover
$5.50
Product #: 404115144
Denomination: 5 x Permanent™ (domestic rate)
Design: Paprika
Dimensions: 190 mm x 112 mm
Printer: Canadian Bank Note
Quantity: 7,000
Shop