Leonard Cohen
September 21, 2019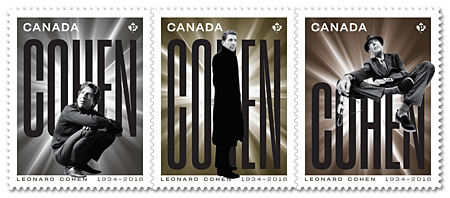 Born in Montréal, Quebec, on September 21, 1934, Leonard Cohen's first poetry collection was released a year after he graduated from McGill University in 1955. While living on the Greek island of Hydra in the 1960s, he published three more volumes of poetry and two novels, including the critically acclaimed Beautiful Losers. In 1967, he made his debut as a singer-songwriter at the Newport Folk Festival and released Songs of Leonard Cohen – an album that included two of his most famous songs, "Suzanne" and "So Long, Marianne."
In 1984, Cohen released his album Various Positions containing the track that would become his most popular and likely most covered song, "Hallelujah." Following the release of the internationally acclaimed I'm Your Man (1988) and The Future (1992), Cohen received the first two of his eight career JUNO Awards in 1993. That decade he was invested into the Order of Canada, inducted into the Canadian Music Hall of Fame, and received an honorary doctorate in literature from McGill University and a Governor General's Performing Arts Award for Lifetime Artistic Achievement.
In 2001, after five years in a Buddhist monastery and a long hiatus from recording, Cohen released Ten New Songs. Over the next several years, he was inducted into the Rock & Roll Hall of Fame and the Songwriters Hall of Fame, and he won a Grammy Lifetime Achievement Award. In 2012, Old Ideas became his highest Billboard-charting album in the United States. Popular Problems topped the 2014 Billboard Canadian Albums chart and won the JUNO Award for Album of the Year in 2015. The month following the October 2016 release of his critically acclaimed You Want It Darker, Cohen died in his Los Angeles home at the age of 82. The album's title track went on to win the 2018 Grammy Award for Best Rock Performance.
The images on the three stamp designs by Montréal's Paprika follow the chronology of Cohen's career in music. Denominated at the Permanent™ domestic rate in the nine-stamp booklet, the designs have been reconfigured at the U.S., oversized and international rates for a collectible uncut press sheet, four OFDCs and a gummed pane.
Montreal's 21-storey high mural tribute originates from a 2013 proposal by Canadian Gene Pendon, a visual artist based in Montreal. Initially developed as part of Mu's "Les Bâtisseurs" series, a collection of local mural homages to cultural icons of Montreal. Mu is a non-profit organization with the mandate of the democratization of public art in Montreal. The idea of collaborating with American muralist, El Mac, who lives and works from Los Angeles, would serve to connect the two cities where Leonard Cohen and his family called home, both at the beginning and at the end of his life, within the single tribute to the Canadian poet and songwriter.
The proposal, initially proposed to coincide with Leonard Cohen's 80th birthday in 2014 and intended as a local tribute in the neighborhood of his Montreal home, would only be re-visited to be developed as a project shortly after Mr. Cohen's death November 2016, and would be adopted by then-Mayor, Denis Coderre and the Montreal Museum of Fine Arts, as the city of Montreal's tribute dedicated to the Cohen family, to the country and Leonard Cohen fans from around the world.
Booklet of 9 stamps
$8.10
Product #: 414118111
Denomination: 3 x Permanent™ (domestic rate)
Design: Paprika
Dimensions: 32 mm x 40 mm
Printer: Lowe-Martin
Printing Process: Lithography in 6 colours
Quantity: 350,000
Gum Type: PVA
Shop