Hanukkah
November 06, 2019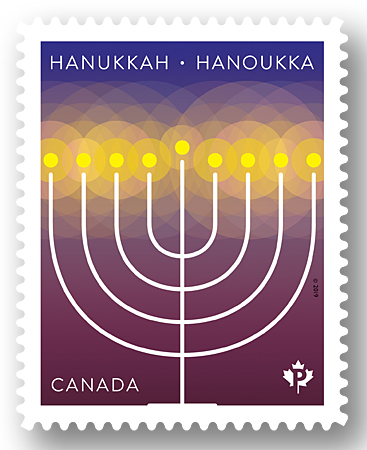 Issue date: November 14, 2019
We celebrate our nation's rich cultural diversity with a new issue for the Jewish festival of Hanukkah. In 2019, the annual eight-day celebration takes place from nightfall on December 22 to nightfall on December 30.
Beginning on the 25th day of Kislev in the Hebrew calendar, Hanukkah – also known as the Festival of Lights – commemorates the rededication of the Temple in Jerusalem following the Maccabees' triumphant fight for religious freedom. The Temple's menorah – a sacred candelabra – was required to burn continuously; however, only a day's worth of oil remained after the battle. Miraculously, that small amount kept the light aglow until the oil supply was replenished, eight days later.
According to Lionel Gadoury of Context Creative, the stamp design explores the relationship of light and darkness for a fresh interpretation of the holiday's colours. Combining a stylized menorah with layered details, patterned and nuanced hues – from bright yellow to deep magenta and purple – the intent is to evoke a sense of reflection and contemplation.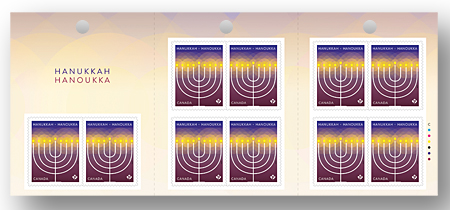 Booklet of 10 stamps
$9.00
Product #: 414125111
Denomination: Permanent™ (domestic rate)
Design: Context Creative
Dimensions: 28 mm x 35 mm
Printer: Lowe-Martin
Printing Process: Lithography in 3 colours
Quantity: 130,000
Illustration: Context Creative
Shop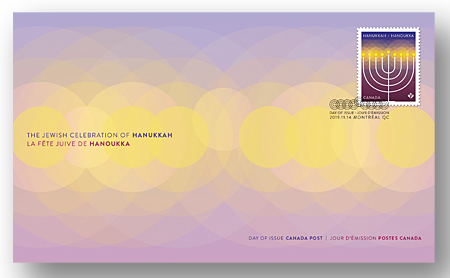 Official First Day Cover
$1.90
Product #: 414125131
Denomination: Permanent™ (domestic rate)
Design: Context Creative
Dimensions: 190 mm x 112 mm
Printer: Lowe-Martin
Quantity: 7,500
Illustration: Context Creative
Shop