Red River Resistance
November 06, 2019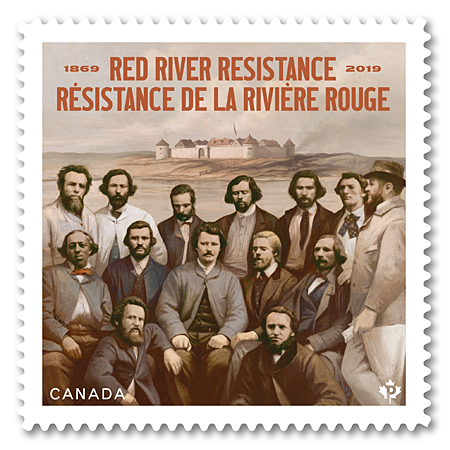 Issue date: November 6, 2019
This stamp commemorates the 150th anniversary of the Red River Resistance of 1869 - 70, which asserted Métis rights during the turbulent events leading up to the creation of the province of Manitoba.
In 1869, the Canadian government acquired from the Hudson's Bay Company a vast tract of western and northern lands, including present-day Manitoba. Fearing the loss of their land and cultural rights, the majority Métis population of the Red River Settlement established a provisional government – under the leadership of Louis Riel – to negotiate with the Canadian government. The result was the Manitoba Act, which brought the first western province into Confederation on July 15, 1870.
Designed at Montréal's Paprika by Raymond Lanctot, with art direction by Louis Gagnon, and illustrated by Gérard DuBois, this Permanent™ single stamp issue was created in close consultation with the Métis National Council.
"We're thrilled Canada Post is issuing a stamp to mark this important anniversary," says Métis National Council President Clément Chartier. "By defending Métis rights, Riel and the provisional government changed the course of Canadian history."
"The Métis Nation is one of the founders of Manitoba," says David Chartrand, President of the Manitoba Métis Federation. "In partnership with Canada Post, we are pleased that we can all commemorate our history."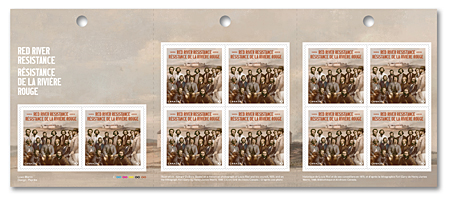 Booklet of 10 stamps
$9.00
Product #: 414120111
Denomination: Permanent™ (domestic rate)
Design: Paprika
Dimensions: 38 mm x 38 mm
Printer: Lowe-Martin
Printing Process: Lithography in 5 colours
Quantity: 130,000
Illustration: Gérard DuBois
Shop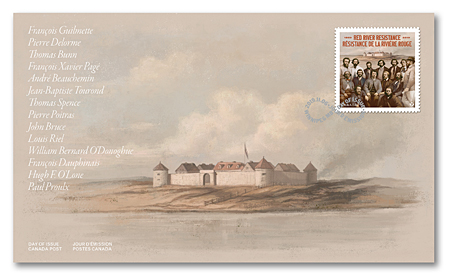 Official First Day Cover
$1.90
Product #: 414120131
Denomination: Permanent™ (domestic rate)
Design: Paprika
Dimensions: 190 mm x 112 mm
Printer: Lowe-Martin
Quantity: 7,000
Illustration: Gérard DuBois
Shop